Best Hatchable Toys for Kids They Can Add in their Colleggtibles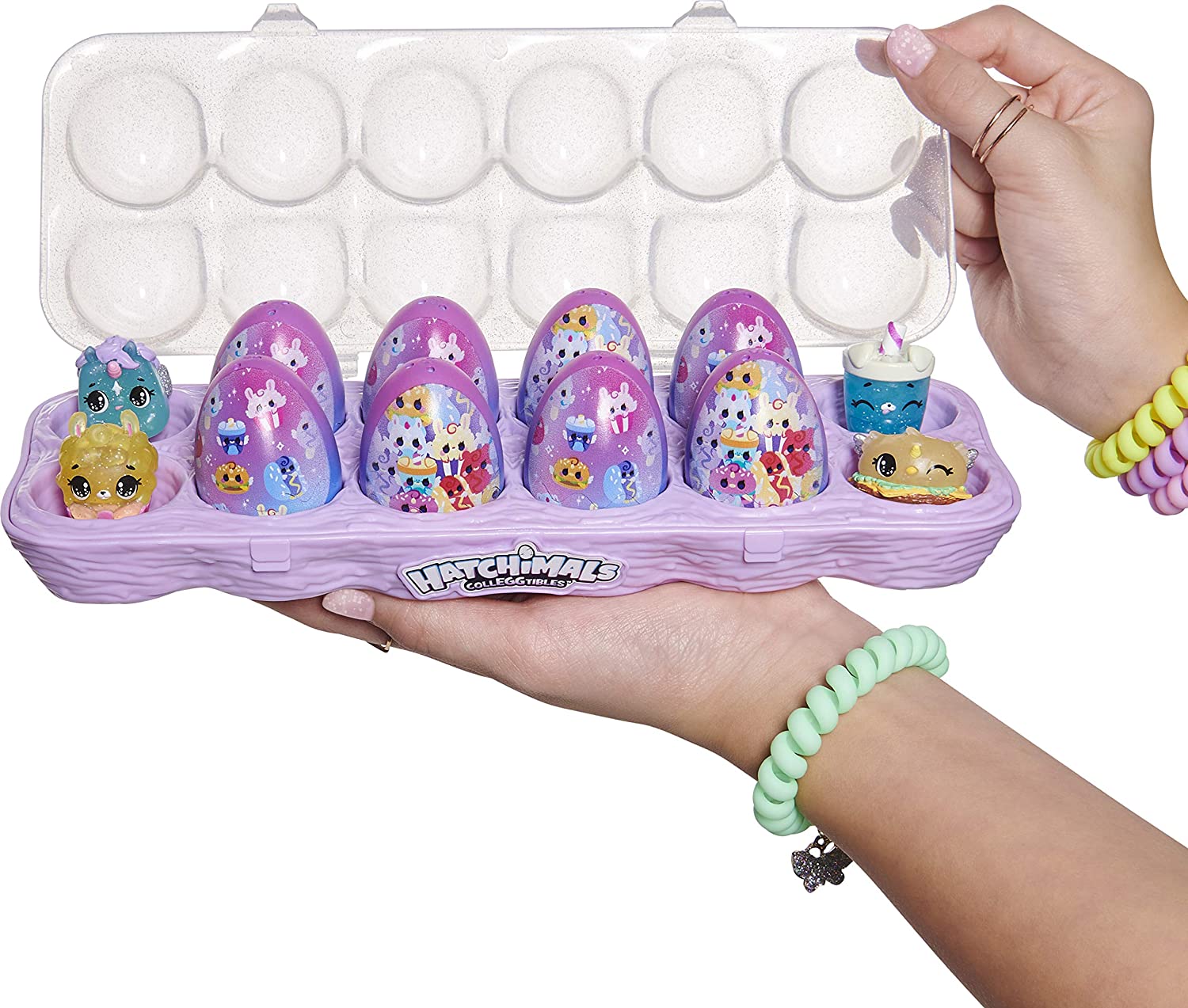 It's no secret that hatchable toys make a great gift for kids, regardless of the occasion. And we all know that the reason that makes them more special is that they give kids an element of surprise. They'll have no idea what's inside that little egg, when they'll hatch, and the process needed to crack the egg.
With the hope of reducing your stress finding great hatchable toys in the market, we've listed the most-sought toy products that hatch from Amazon.
1. Royal 12-Pack Jewelry Box Hatchimals – Best Overall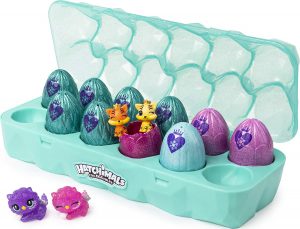 One egg isn't enough for kids who are into hatchimals. Spin Master manufactures one of the best colleggtibles in the market that comes in a dozen-egg carton. The Royal Jewelry Box Hatchimals contains two exclusive mystery eggs and ten royal eggs kids can hatch. The best part of this? Rubbing the egg's royal purple heart until it turns pink helps kids prepare the egg for hatching, which they can crack later to reveal royally-inspired hatchimals.
The fun part doesn't end there. It's packed with accessories hidden in every egg. Girls who are into glamming and playing mix-and-match style will surely love this item, considering it's the best hatchimals from Amazon. Meanwhile, the egg carton turns itself into a jewelry box where your kid can place the hatchimal accessories conveniently.
There are over 100 original hatchimals to collect with this item. Perfect gift not only for the Christmas season but also for Easter egg hunts and birthday parties. You can also get these hatchimals to reward your youngsters for a job well done at school–the best way to kick-start their hatchimal creatures collection.
Pros
Pack with 12 eggs in one purchase

One of the sought-after hatchimals in the market

Comes with a carton tray shiftable into a jewelry compartment
Cons
Choking hazard. Not for children under 3 years
2. Dig a Dozen Dino Eggs Dig Kit – Best Quality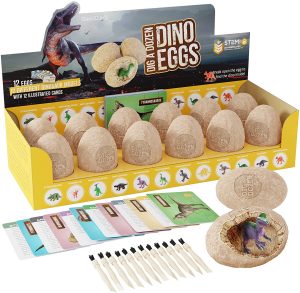 Second on the list the Dig a Dozen Dino Eggs Dig Kit made by Dan & Darci Store. It's the perfect way to get your child into the world of dinosaurs and archaeology science. Your kid would definitely love this kit as it comes with the following materials and activities they can enjoy: 12 dino hatching eggs, learning cards, and chisels with instructions on how to use them.
What's more, Dan & Darci Store guarantees their hatchimal creatures are authenticated by STEM.org. This implies that the product meets the highest standards of STEM learning, perfect for studying dinosaurs and hatching eggs, making it one of the best hatchimals kits for anyone. Your child gets to know more about the history and characteristics of a specific dinosaur with the help of colorful learning cards.
Dig a Dozen Dino Eggs kit is a surefire way to get kids to enjoy a fun and fascinating science experience. At the end of the day, they'll know several types of dinosaurs, their histories, and characteristics as well –each living a lifestyle on its own!
Pros
Fun, interactive, and educational gift for all ages

A new way to introduce the world of dinosaurs to children

Verified by STEM.org for science learning 
Cons
Hatching eggs can be messy
3. Insect Lore Butterfly Pavilion – Best Nature Kit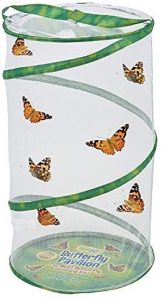 There's no other way for a kid to discover and experience true hatching than the Butterfly Pavilion from the Insect Lore Store. This nature science kit has been teaching students and children metamorphosis for more than 50 years. It's a comprehensive and educational hatchable toy kit for your kid to learn and understand a butterfly's life cycle. The recommended age range is 4 to 15 years old but can be fun and interactive for toddlers as well.
It's an excellent gift to surprise children who love to play with the wonders of nature. They'll be busier with the Insect Lore Butterfly Pavilion; the kit comes with a voucher to redeem five tiny caterpillars. Children can watch them transform into cocoons and hatch into cute butterflies. Watch as the bugs grow, eat, spin silk, and grow up to ten times their original size!
In this pavilion kit, you'll get a reusable 2-foot pop-up habitat where kids can watch butterflies fly freely. Other items inside this kit are a feeding dropper, a guide and instructions, a voucher, and an 11-page STEM journal for engaging activities and exercises. Take note that the Butterfly Pavilion is available from March to September –the best time to grow butterflies in your garden.
Pros
Best hatchimals kit for nature lovers

Nurture little caterpillars as they emerge into butterflies

Fun and educational hatchable toy for kids

Contains additional games and exercises
Cons
The voucher needs to be redeemed online to ship live caterpillars
4. Hatchimals Fluffy Mystery Character – Best Interactive Hatchimal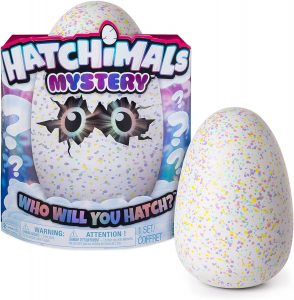 Some kids love not knowing what's behind a hatching egg. To help them experience full mystery, get them this hatchimal creature from Amazon. It's manufactured by the Spin Master known for their great colleggtibles in the market. Your child wouldn't know if she's getting a Bunwee, Pandor, Hedgehog, or Elefly once the egg hatches. Regardless of the creature hatched, the hatchimal has a patterned fur that makes it fluffy. This hatchimal egg also delivers in terms of appearance. They're soft and come in brightly-colored pastel toys. Additionally, they're small enough that even toddlers and infants can play with them. 
There's a special process to hatch this mysterious hatchimal: tap the egg, flip it upside down, and listen for its heartbeat while holding it close. When the eyes of the hatchimal light up, it's time to tap their way free. Once hatched, set up the hatchimal with two AA batteries.
What makes this hatchimal playset on top of its competitors is that it's interactive. Children can teach this hatchimal toy their names by recording. Once the furry hatchimal learns the name, they'll say it in an instant. This fluffy toy comes with different "stages" so your kid can explore music and games. The manufacturer also includes an instructional booklet and cheat sheet.
Pros
Caters to infants and toddlers

Fun and interactive for youngsters to play with other friends

A great choice for fluffy hatchimals

Best hatchimals for interaction
Cons
Comes with an expensive price
5. iGeeKid 60-pack Dinosaur Eggs Toys – Best Water Hatchables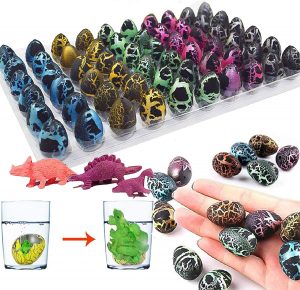 Hatchimals crack eggs in different processes, and the hatch can be done in a pool of water. iGeeKid's hatchimals come with 60 random eggs that hatch and grow in water. You don't need to worry about the materials used for these hatchimal toys as they're made with non-toxic and environment-friendly PVC material. Each egg is harmless; they're cute and involve a magical process to hatch.
Overall, the dinosaur hatching process approximately takes one to two days. You'll put an egg into a glass of water and you'll observe the hatch process after 8 to 12 hours. Once the shell cracks, the dinosaur inside absorbs the water and grows up. Patience is needed for your dinosaurs to be perfect –even growing five times their initial size!
Pros
Hatchimals come in 60 pieces, quail-egg size

One of the best hatchimals with a squishy appearance and texture

Package is extremely giftable for every occasion

Can make dinosaurs collection easier in one go
Cons
Not for toddlers as the egg toys are too small
6. Coral Castle Fold Open Playset Colleggtibles – Best Hatchimals Playset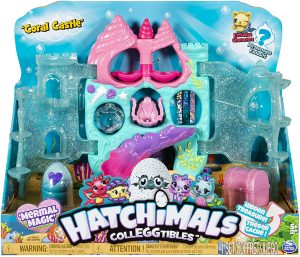 One of the best playsets we've seen exclusively on Amazon is this Coral Castle Fold Open PlaySet Colleggtibles. It features 25 places that your child can play and display along with their hatchimals collections. Included places in this product are the shell spinner, hatchimal swing, sparkly perch, and a Mermal pool. The set involves two exclusive Season 5 Hatchimals figurines that you can free by cracking the shell.
Nonetheless, this water edition of hatchimals isn't your ordinary water-themed park. Any kid will find hatchimals and creatures colleggtibles more fun because the playset has hiding places and accessories. Plus, the coral castle is cute enough and worth it for its price.No batteries needed to use and play this set.
What makes this Coral Castle Fold Colleggtibles special is that the Mermal pool can change the color of your hatchimals. Use the pool and fill it with warm water to explore your hatchimals' secret colors. Even if your kids aren't into underwater themes, we're pretty sure they'll love this set as the eggs hatch with mystery and surprise.
Pros
Considered one of the best Christmas gifts by most parents

Fantastic playset worthy of its price

Best hatchimals for underwater-themed toys

Top feature involves changing color when dipped in warm water
Cons
Has small figures

One in-egg and out-of-egg hatchimals
7. Crystal Flyers Magical Flying Pixie Toy – Best for Girls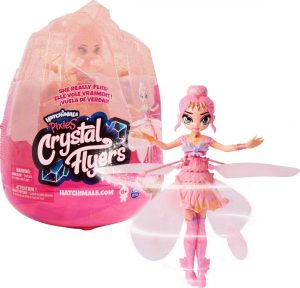 Who said hatchimals are limited to animals and creatures? Little girls would definitely love this Magical Flying Pixie Toy where they can hatch their very own pixie at home. It comes with its crystal shell to keep it in place when not in use. One of the features that you'll love about this set is that it flies! It has a built-in sensor where it's safe for your kid's hands to guide and hover above this little pixie.
In terms of durability, this hatchimal pixie delivers. It's also lightweight and doesn't break easily when it hits objects while flying. Meanwhile, there's a USB cable stuck inside the shell so you can plug the toy on a wall adapter or computer. You must charge this hatchimal pixie before playing it.
The Crystal Flyers Magical Pixie toy is the best gift you can buy for a girl even if it isn't her birthday. It highlights detailed and glittery wings, so you'll see the hatchimal sparkling right before your eyes. Plus, the pixies toys come with an auto-stop feature, which ensures safety when your kid accidentally touches the wings mid-flight.
Pros
It has detachable wings for easy reconnecting

Spins and flies in the air

A special pixie toy for girls and youngsters
Cons
Need to charge the battery fully
8. Dreamworks Dragons Hatching Toothless – Best for Boys
We know for sure that your kid's already watched Dreamworks' "How to Train Your Dragon" and have been wanting one baby dragon ever since. To make your searching process quick, surprise your child with this Hatching Toothless Interactive Baby. With his see-through covering, you can easily determine if Toothless is ready to hatch.
Another highlight of this product is its glowing mouth, revealing Toothless needs to be fed with fish accessories included in this item. It's also interactive as it responds through roars. You can play with Toothless by training him how to fly, feeding him, and playing games together. Toothless is definitely ready for any adventure. You'll also get an instruction guide to charge his plasma blast in time!
Pros
One of the adorable and cute hatchable toys you can collect

Very fun to hatch and play

Perfect for youngsters who are a huge fan of HTTYD
Cons
Needs batteries to work his plasma blast power
9. Hatchimals HatchiBabies Cheetree Hatching Egg – Best Surprise Egg
If your kid's into petting baby hatchimals, look no further with these Cheetree HatchiBabies. Unlike other hatchimals that grow, these hatchimals remain babies forever. There are three choices for a store-bought species: Ponette, Chipadee, and Cheetree. It's one of the best hatchimals in Amazon that doesn't tell if the hatchimal is a girl or a boy –this is where the surprise comes in!
Little ones can feel the egg moving and experience the hatch. They'll need to cuddle, rub, and tap the hatchimal baby egg to spot the creature. You'll observe the hatchimal baby's eyes change into a rainbow if it's ready to hatch. It's also fun and interactive to play these hatchibabies as they get excited and rock back and forth. To reveal who's inside, lift the hatchimal baby from the shell and a secret message tells the gender of the baby. 
Similar to newborn babies, the hatchimal baby has a birth certificate exclusive for that toy alone. Moreover, hatchimal babies have accessories for proper care and treatment. Take note that different species come with different accessories! A bonus? This hatchimal baby can say your name. Just hold its feet, say your name, and they'll say it instantly.
Pros
Can be bought a surprise gift for a child who doesn't want to reveal the gender

One of the well-programmed and interactive toys to play with

Can make sweet little sounds
Cons
Some may find the shell difficult to crack
10. Limmy Edish Glamfetti 12-Pack Egg Carton Hatchimals – Best Value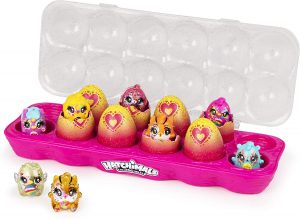 What makes colleggtibles more fun is buying a set of 12-pack egg carton hatchimals from Amazon. The Limmy Edish Glamfetti hatchimals combine colorful confetti graphics and hatching creatures in this edition. It's considered a must-have colleggtibles if your kid's into cute and half hatchimals. Hatchimal characters are inspired by popcorns, burgers, and sodas.
Once the glittery lid is open, you'll see four eggs already hatched while the remaining are still on their shells. Unlike other competitors, the hatchimal creatures in this edition are shakeable; you can watch cute and little confetti as it moves around in the character's tummy. Besides, these little creatures are unique since they can't be found anywhere else. The shells are easy to crack and tap as well.
Pros
Graphics make it more fun to crack the eggs

Perfect gift for children ages 5 to 7, but good for toddlers as well

A must-have colleggtibles for your kid
Cons
Four out of twelve eggs are hatched already

Hard to find online