12 Best Unicorn Toys for Kids (2021 Reviews)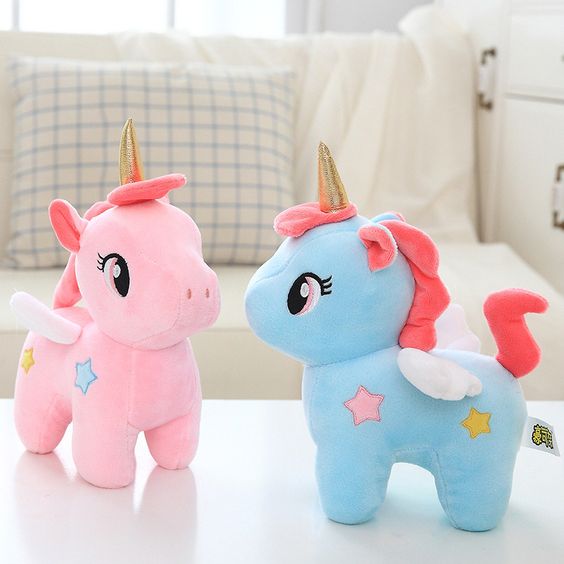 If your little one's into fairytales, chances are they've already seen magical creatures, especially unicorns.
It's not a secret that unicorn toys evoke amusement and wonder, so why not fuel your kid's fantasies by buying them unicorn-inspired gifts that they'll surely cherish for life.
To fuel your kid's fun and imaginative play, we've rounded up the best unicorn toys in this article. Below, you'll find our top picks for unicorn toys that are perfect for your kid's playtime.
1. Ontel Star Belly Dream Lites – Best Overall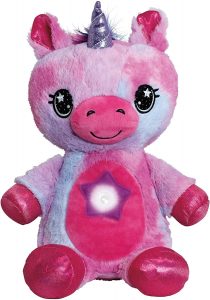 Get your kids the most magical nightlife friend in their lives with the Ontel Star Belly Dream Lites. It features a unicorn night light that's soft and huggable and gives a comforting night for your child. The unicorn toy's belly creates glowing stars and fun shapes that drift over your child's room's ceiling and walls. You are giving your child a companion, especially those who are afraid of the dark.
What you'll love about this unicorn-stuffed animal is its press button that projects different soothing hues. Youngsters can choose their favorite light from six available colors: purple, pink, blue, green, amber, and light blue. They only need to press the button on the unicorn's belly, and it's ready to light up your child's world.
Besides, the unicorn toy encompasses two speed options. These options refer to the motion mechanisms and rotations of the star lights that best lull your kid to sleep at night. The toy auto shuts off after 20 minutes, which can even replace your kid's room lamp. Yet, you need three AAA batteries to make it work.
Pros
Huggable and plush design, great for cuddling children at night

Best unicorn toy for kids and toddlers ages 3 months and up

Accents bright hues and automatic power off
Cons
Need batteries to make the magical unicorn work
2. Little Live Pets Sparkle My Dancing Interactive Unicorn – Best Quality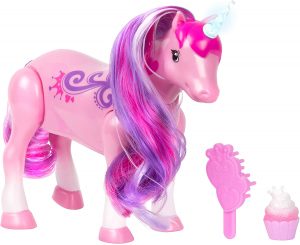 If you're looking for a more interactive magical unicorn in this round, Little Live Pets Sparkles Unicorn is the right choice for young ones. What makes this "interactive" is that it reacts to touches, wherein it nuzzles back to you. Youngsters would find this gift one of the prettiest unicorns in the kingdom, as it highlights a long and beautiful tail and mane.
Children will be kept entertained for hours with this unicorn's help. The unicorn dances while its horn strobe multiple colors. Additionally, your little one can groom and comb its hair, as the kit comes with a light brush. If the unicorn toy gets hungry, kids can feed it with a cupcake (that's also included in the set).
Lastly, you'll see that this unicorn toy changes colors depending on what it does. Stroking its hair and back gives you a red glow. Meanwhile, it gives a green glow when you're feeding it with cupcakes—a perfect gift for children ages 5 and above.
Pros
Children can "feed" it the unicorn toy

Keeps youngsters fascinated with its lights

A toy unicorn that dances to its sound
3. Power Your Fun Robo Pets Unicorn Toy – Best for Girls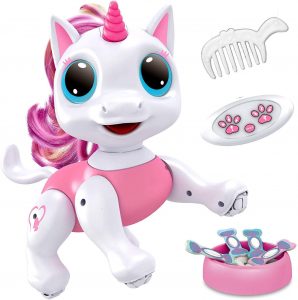 Another fun and an interactive unicorn on the list is the Power Your Fun Robo Pets unicorn toy. Instead of touching and caressing, little kids use a remote control to make this toy move. It features three smart-play modes: remote, adventure, and treat modes.
In remote mode, this unicorn lights a blue color in the eyes; youngsters use the remote to command their toy with simple gestures. Meanwhile, the unicorn lights red eyes when it's in adventure mode. The unicorn toy is smart enough to avoid obstacles while navigating your child's room. Lastly, it glows purple eyes when it's on the treat mode, performing a series of movements (with its own music) that keep your child busy and amused.
This is a giftable white unicorn toy for girls ages 3 and above, as it comes with a comb and treats. You'll need two AAA batteries for the remote control. The unicorn toy also needs to be charged (USB charging cable included) before using it. Moreover, it gives your little one a non-stop 45-minute hour play with every 1.5 hours charge.
Pros
Cool remote-controlled unicorn

Provides a fun and amazing experience for children

Well-packaged and functional gift for little girls
Cons
Controls might overwhelm children
4. It's So Me! Paint Your Own Unicorns – Best for Little Artists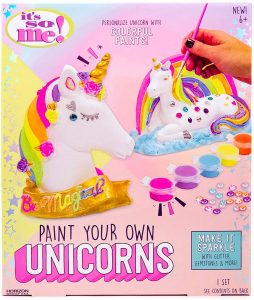 Unleash your child's inner creativity and imagination with It's So Me! Paint Your Own Unicorns set. Buying this unicorn paint kit gives your child a way to create their own unicorn masterpiece. After all, kids have specific unicorn colors in their minds.
This paint set contains two plaster unicorn figurines and vibrant, metallic, and shimmering neon paints youngsters may use to color their unicorn plasters. You'll also find a 6-color acrylic paint strip, 5-color metallic paint strip, glitters, two paintbrushes, foam paint, 7 acrylic gemstones, a glitter sticker sheet, sequins, and an instruction—these items make the price worthwhile.
Further, coloring and glamming these unicorn plasters helps improve your childs' artistry and motor skills. They'll be dazzled with the colorful patterns they created. You'll want to display these unicorn plasters in the room to show how proud you are of your bundle of joy! It's So Me! advertises its paint kit for kids ages 6 and above.
Pros
Color sets and materials are safe

Vibrant and long-lasting colors

Improves a child's imaginative and creative skills
5. Playz Unicorn Play Tent with Unicorn Ring – Best for Outdoor Play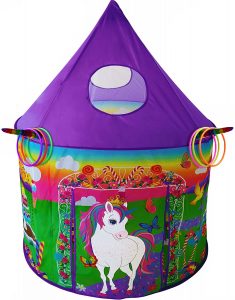 You don't want your young one to miss out on the best outdoor memories in their life, so give them a play tent set that they'll surely appreciate. With Playz unicorn-themed play tent, kids can surely create fun and imaginative play of their lives while learning social interaction and thinking skills.
Moreover, the play tent has a large room that can accommodate three children inside (even catering to kids when they stand). In terms of durability, the Playz play tent delivers. It's double-stitched for unbreakable seams, padded steel frames, and mesh windows for air circulation. It also guarantees kids' safety since it meets the CPSC toys' standards. It's also easy to store and assemble since it's a popup tent.
Aside from its well-made materials, the play tent includes games that children can use for added fun. Activities include tic-tac-toe with 9 candy pieces, a unicorn-candy board game on the floor, a unicorn-horn toss game with 6 rainbow hoops, and a unicorn name-game with 4 available badges.
Pros
Creates outdoor experience filled with magic

Advertised for kids ages 4 and up, but even toddlers would appreciate the tent

Lightweight despite durable materials used
Cons
Instruction included seems unclear
6. HONGID Star Projection Unicorn – Best Night Light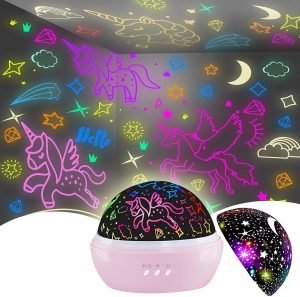 HONGID Star Projection Unicorn highlights a fun unicorn night light that lulls kids to sleep at night peacefully. Unlike other unicorn night lamps featured in the list, HONGID boasts a longer lifetime: this unicorn-inspired light projects up to 15 feet with clear unicorn, moon, and star patterns.
It doesn't make any loud noises, making it a great gift for children who are particularly afraid of darkness. It comes with different light modes youngsters can choose from: blue, red, green, or rainbow theme. Likewise, this unicorn night light highlights patterns that rotate 360 degrees, accents a smart-touch button, and advertises an energy-saving lamp. The magic kicks in with the use of batteries or with a USB cable. Take note that these methods cannot be used at the same time.
Pros
Fun and entertaining for kids

A great addition to your kid's unicorn-inspired room

Accommodates kids of all ages
Cons
Batteries aren't included
7. Hog Wild White Unicorn Popper Toy – Best for Boys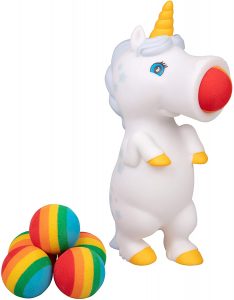 It's not a secret that most boys love to chase and shoot friends with their NERF guns. But if they aren't used to NERF toy shooters, you can bring them this Hog Wild popper toy. It features a white unicorn with a yellow horn that can shoot foam balls up to 20 feet in distance. Kids only need to squeeze the unicorn's body, and the ball pops out instantly.
What you'll appreciate in this unicorn popper toy is that it comes with six vibrantly-colored rainbow balls. Kids can instantly create hilarious moments when shooting foam balls (that don't hurt) to unexpecting targets. Nevertheless, the harder your kid squeeze, the farther it shoots.
This unicorn popper toy isn't advertised for kids ages 3 and below, as the foam balls come in small size.
Pros
Fun for children ages 4-8 years old

Includes six soft-foam balls that don't hurt targets

Great for indoor and outdoor play
Cons
Choking hazards not suitable for kids 3 and below
8. Little Jupiter Plush Pet Set with Purse – Best Plush Set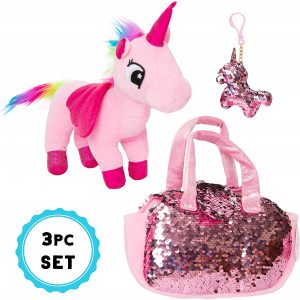 Children love stuffed animals since they're soft and cuddly, making them a great companion whenever they go. With Little Jupiter's plush pet set, kids get not only a cuddly unicorn toy but also a purse with a sparkly charm. It's one of the unicorn plush toys that's tested and verified by U.S. laboratories, ensuring the soft polyester materials used are safe for your kid's delicate skin.
The 3-piece set comes in pink color. The mini-pet bag contains flippable mermaid sequins that sparkle even when you're feet away. Youngsters will be amused by how the reversible mermaid sequins turn from silver to blue for a more customized look. Meanwhile, the fluffy unicorn toy contains soft fur details throughout, from the wings to its body. You'll also find the mane and tail detailed in rainbow hues, adding aesthetics to the unicorn toy.
Little Jupiter boasts a larger plush purse set than its competitors in the market—the purse is over 12 inches long!
Pros
Great set for girls ages 4 and up

Detailed sequins and rainbow-colored mane and tail

Includes a unicorn keychain
9. Amitie Lane Unicorn Musical Jewelry Box – Best for Little Fashionistas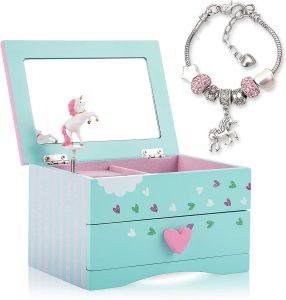 Fashionistas at heart would definitely love Amitie Lane 2-in-1 unicorn-inspired box. Note that the Amitie Lane unicorn musical box can come in two available paints: pink or blue. Nevertheless, it highlights a beautiful unicorn musical box with pull-out drawers, a large mirror, and a spinning unicorn. Kids get a unicorn charm bracelet containing rhinestone beads inside this item sealed in a pouch.
The fun doesn't end here, as this jewelry box comes with a "wow" factor. It provides your little one with an augmented reality experience with the help of the Itsy Unicorn app. By scanning the top of the box, your child gets to spawn the unicorn in its world full of magic.
Kids' safety is Amitie Lane's top priority when manufacturing items. The jewelry-musical box is well-made with sturdy and recycled Eucalyptus wood, medium-density fiberboard, and silver-plated cardboard. Surely, this unicorn-inspired box can withstand misuse and abuse with all of these facts mentioned.
Pros
The item is delivered in a beautiful unicorn-theme box

A giftable item for girls of all ages

Premium-quality wood materials are used that keep the box durable

Includes AR experience that creates a magic unicorn world
Cons
The unicorn isn't perfect
10. Labebe Baby Rocking Unicorn – Best for Toddlers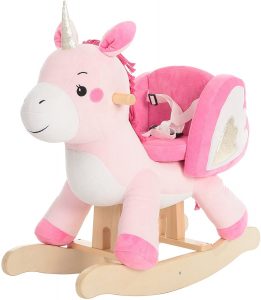 Rocking horses is still a thing today, so why not give your toddler the same toy you had, but with a twist? Labebe Baby Rocking Ride features a unicorn-themed kid ride that's great for toddlers, ages 1 to 3. What makes it different from other rocking horses is that it implements a three-side seat with a belt. So, even when your little one cannot balance their body yet, Labebe Rocking Unicorn provides pure comfort.
Not only is this unicorn adorable, but it is also safe and sturdy. The unicorn ride is made and filled with PP cotton, stitched enough inside the plush fabric that's perfect for your baby's comfort. Trying to feed your toddler while riding this unicorn? You can! The plush fabric, although soft, is stain-resistant and spill-free. It's made with solid wood and medium-density fiber that makes up for its sturdy construction; yet, you'll find this rockable.
Labebe ensures your toddler's safety by passing the Toys Safety Standards EN-71 CE in Europe and ASTM F963 in the U.S. Besides, it won the best unicorn toy design under the category of "fabulous plush animal design."
Pros
Safe and sturdy unicorn-themed rocking chair

Highlights safety attributes for your child

Soft and cute once assembled
Cons
Poor assembly instruction
11. LONGXU Unicorn Lamp Night – Best Value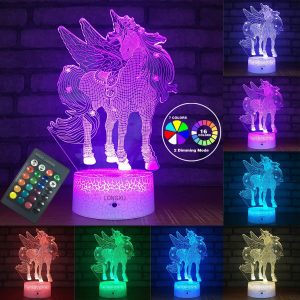 Another unicorn night light that made it to the list of best unicorn toys is from LONGXU. It's a great addition to your kid's room, not only for its 3D figure but also for its remote-controlled lights. Kids get to pick their favorite light from 16 different colors and choose if they want it static or gradient.
Youngsters would love and appreciate the unicorn's aesthetics, as it creates optical illusion while maintaining its novelty and charm. LONGXU guarantees their lamp is safe for your children and brings them a nice sleep with its uniform, non-flicker life. What's more, this unicorn lamp night can be operated in two ways: use three AA batteries or connect it with a 6V USB cable.
Customers particularly love how this kit includes a remote control, which is LONGXU's cool feature. Plus, this unicorn toy is easy to assemble, thanks to the instruction included in the kit. LONGXU unicorn lamp night is a perfect way to set up a unicorn-themed party at your home.
Pros
Worth the price since it accents various displays

Safe and eco-friendly lamp for your bundle of joy

Brings a nice sleep to your children
Cons
Doesn't come with batteries
12. Melissa & Doug Giant Unicorn – Best Splurge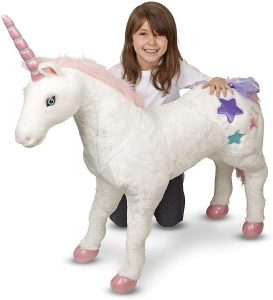 There's no other great way to let young ones enjoy their childhood memories than by giving them giant stuffed animals featuring their favorite unicorn pet. Kids of all ages can turn their ordinary day magical with Melissa and Doug's giant unicorn that highlights pure white plush fur. It's soft and cuddly to touch, while the horn's well-made with shiny and adorable details.
Even toddlers would find this giant unicorn amusing. They can play with it in countless ways, which helps develop their interaction and communication skills. Some parents might think the item is expensive, but it is completely worth it. It can withstand any conditions since it accents sturdy wireframe construction. Besides, the unicorn toy stands tall, thanks to its four hooves that are durable enough.
Pros
Makes a child's room more magical

Details shiny and shimmering horn

Soft fur details on mane and tail
Cons
May be too expensive for some