17 Best Play Tunnels for Kids (2021 Reviews)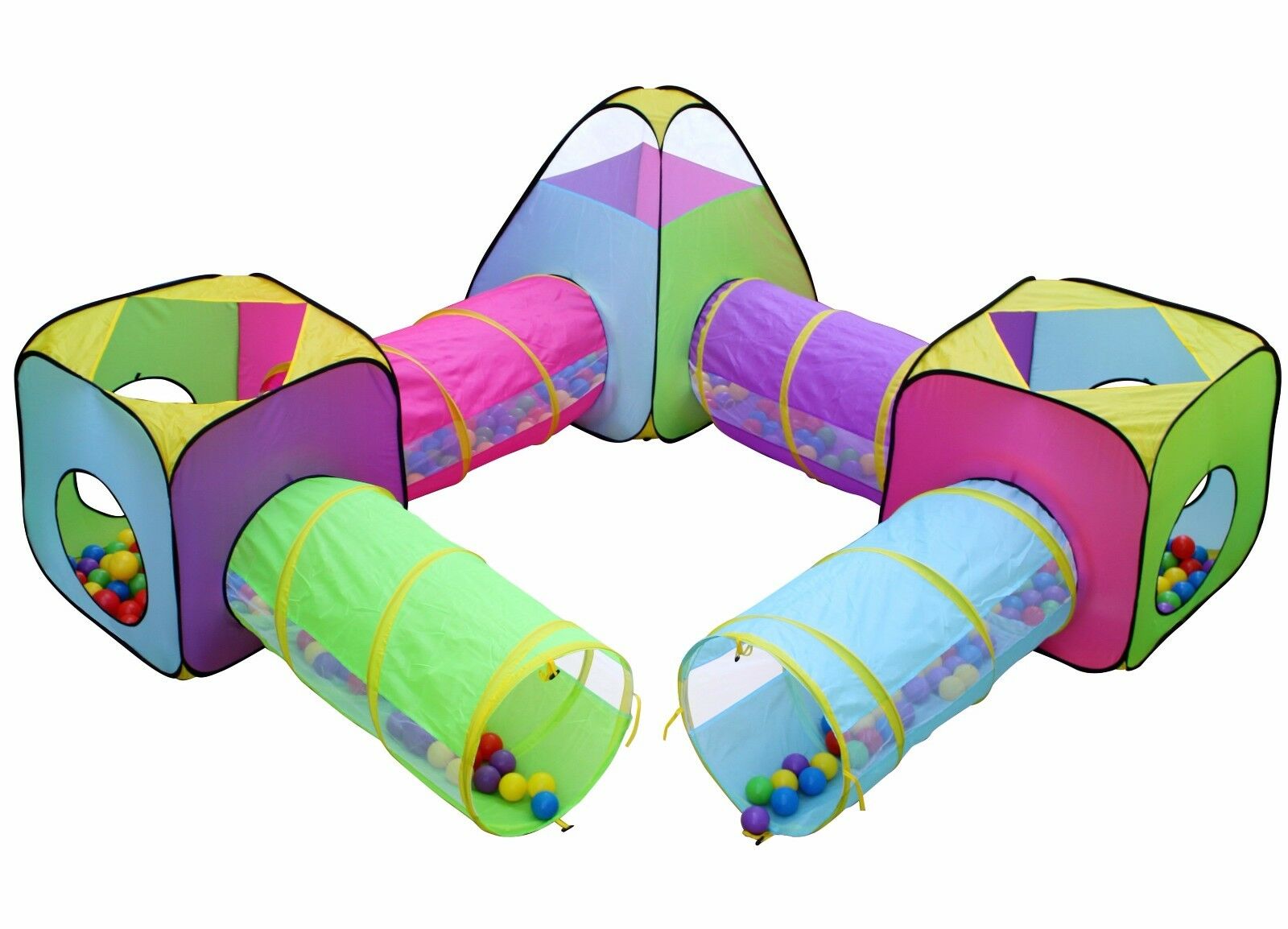 It cannot be denied that play tunnels and tents are a great addition to your child's playroom. Take note that they aren't your ordinary tubes. These play tunnels do not only provide fun and experience but also let kids develop motor and coordination skills at your home's convenience.
There are tons of play tunnels advertised on the Internet, and we're sure you don't want to be burdened with the time-consuming process of finding the best play tunnels your kids would love.
We did the process of research and narrowed them down below. Here are the best play tunnel for toddlers:
1. UTEX 3-in-1 Pop-Up Play Tent with Tunnel – Best Overall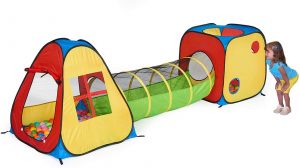 UTEX 3-in-1 pop-up play tent wins this round of the best crawl-through tunnel for toddlers. It's made with 190T polyester taffeta, ensuring the play tunnel's sturdiness against the wind. Besides, the material makes it possible for the UTEX play tunnel to be comfortable to your kid's skin since it's hypoallergenic. What's more, you'll love the fact that this tunnel doesn't stretch after getting wet.
UTEX 3-in-1 crawl tunnel includes tents, a tunnel, and an instruction sheet for assembly. The tents and tunnel can be built separately, depending on your kid's choice, making it an excellent indoor-outdoor play tunnel. The teepee has mesh windows that give children proper ventilation.
Moreover, the UTEX 3-in-1 tunnel playset can be used as a ball-pit playground, racing tunnel, maze, and even magical caves. It's considered a "tool-free assembly;" it's easy to set up in just a matter of seconds. The item comes with a zippered storage bag that you can bring anywhere with you. Nevertheless, it's a great play tunnel to encourage your kid's physical and imaginative play. Perfect for kids age one above.
Pros
Easy to clean and assemble

Well-made to withstand active toddlers' activities

Comes in a handy bag for storing the play tent and tunnel when not in use

Worth the buck
Cons
Doesn't come with pit balls
2. Hide-N-Side 5-Piece Pit Tents and Tunnels – Best Quality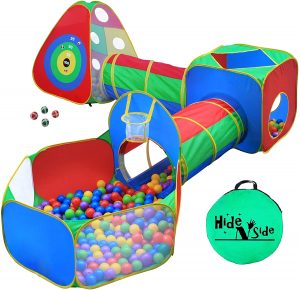 If your kids are into more fun and adventure, you can buy them this Hide-N-Side tunnel playset that comes with the following items: a triangle teepee, a square tent, a ball pit, and two crawl tunnels you can connect to the tents. These items are easy to assemble and store with a portable storage bag, which is also included when getting this crawl tunnel.
What makes this unique is the inclusion of a super cool target wall game. Kids can take their play to a whole new level, as the item includes four dart balls. The materials used are ultra-durable and lightweight, which are safe for your kids' delicate skin.
Any child would enjoy these pit tents and tunnels because it's significantly bigger than other crawl tents mentioned in this round. Thus, you need to make sure that you have a big play area so kids can fully enjoy playtime with their friends with this playset. Meanwhile, it's recommended not to assemble the play tunnels on course surfaces, such as concrete and pavement. Yet, it's a great playset for children aged one and up.
Pros
Perfect playset for kids to practice crawling

Improves sensory and coordination skills

Comes with a money-back guarantee
3. Lojeton 3-Piece Rocket Ship Kids Play Tent – Best for Space Cadets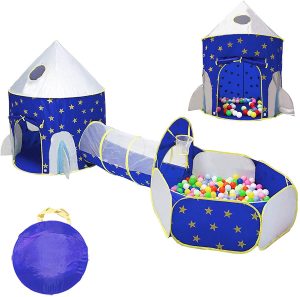 Another top-rated product from Amazon is the Playz play tent, featuring a rocket ship
playhouse as the set's theme. Moreover, it comes in three pieces: a crawl tunnel, a ball pit, and a rocket ship-shaped play tent. Boys and girls who are into space adventures would definitely love this play tunnel set.
The ball pit includes a basketball hoop that adds more fun and excitement for kids. Besides child-friendly and educational tent design, Lojeton uses a soft yet thick fabric that guarantees your kid's safety while playing. You'll also appreciate how Playz tested their materials and passed the USA Toy Safety Standards in this round. Additionally, the play tunnels have breathable mesh walls and flexible padded structures for the safest experience your kid can get.
Included in this play tents set is an easy-storage zipper carrying case for fast and instant assembly–even children ages six and above can assemble the tents quickly! Customers love the fact that the mesh material can withstand scratches, even when it comes to cats and dogs' claws.
Pros
Big enough for its value

The play tent itself is sturdy and durable

Perfect for indoor-outdoor use
4. Hide-N-Side Indoor-Outdoor Play Tunnels – Best Four-Way Teepee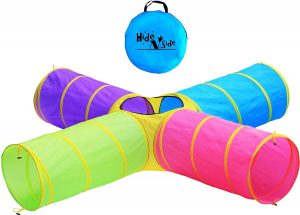 Another Hide-N-Side-manufactured play tunnel for toddlers is its indoor-outdoor crawl-through tunnel. Just like the item mentioned above, this particular crawl tunnel play promises safety features for your kids. In fact, it's made with 190T soft fabric polyester and thick steel wiring, so kids can have endless fun without experiencing the tunnels slumping down.
These indoor-outdoor tunnels make children's games and mazes fun and exciting, thanks to its vibrantly-colored and user-friendly playset. Although it doesn't feature a ball pit, unlike the top two items in this round, its four-way nylon tunnels make up for it. Children get more excited as they make their way through different ways. Who knows who's going to pop up at the center, right?
The fun comes in the idea that you can tie off tunnels onto the center compartment. Your kids have the freedom to choose the number of tunnels they want. One, two, three, or all of them? No problem at all! Besides, this item helps develop your kid's sensory and motor skills—an outstanding gift for toddlers who just learned how to crawl.
Pros
A pop-up play crawl tunnel

Comes with a money-back guarantee

Includes a carry bag for storage purposes
Cons
Misuse and abuse can pop up wires
5. Playz 7-Piece Ball Pit and Play Tent Tunnels – Best for Adventure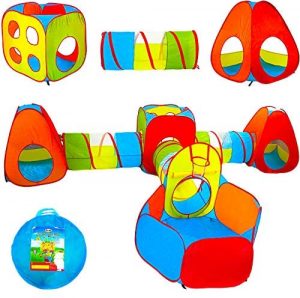 You can never go wrong choosing Playz Store when it comes to great tent sets for kids. It contains a seven-piece adventure play tent set that unleashes your child's imagination. Playz Store advertises a dozen of games and activities children can play with the help of their tents. For instance, your child can build their own castle house, create crawl tunnels, fill the tent with ball pits, and so on.
If you're worried about your child's hands and knees getting scars while crawling and playing inside the set, worry not. Playz crawl tunnel and tent set is made with the highest-quality 190T soft polyester fabric and thick steel wiring. Besides, it passed all the toy safety standards so your child can enjoy playing while they develop leg muscles and gross motor skills.
You'll find two triangular play tents, three crawl-through tunnels, a square play tent, a ball pit with a hoop, a compact zipper storage bag, and assembly instructions. With all of these accessories included, much fun is added not only to your kids but also to the whole family!
Pros
Extremely fun play tent for kids and toddlers

The perfect tent for indoor and outdoor use

Advertised for children of many ages
Cons
Loosened ties on one side
6. Kiddey Children's Play Tent with Tunnel – Best Safety Features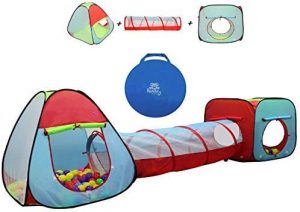 Customers and parents particularly love Kiddey children's play tents for their enhanced and durable features. The materials used in the play tents are waterproof and tear-resistant polyester, which makes the crawl play tent easy to clean. The craw tunnel and tents are designed with active kids in mind. The manufacturer uses sturdy spring steel wire lining that makes it great for indoor-outdoor use.
It's considered a one-of-a-kind kids' play tent for its see-through, mesh-lining triangle, and square tent with multiple entrances. Specifically, you can see your child without worrying about what they're doing inside. You can add play balls for added fun and experience since the tents double as a ball pit.
You'll also appreciate that it's a pop-up play tent, which makes it easy to store. Nevertheless, Kiddey tee-pee tents are big enough for small kids to stand inside but small once folded. Children can use these play tents as one massive playground set or as individual pieces. The crawl tunnel is about 5 feet long, which can be used as a standalone. Either way, the choice is theirs!
Pros
Great play tent for outdoor use

Large enough even when kids stand inside

Easy storage and assemble
Cons
It would be better if the manufacturer used zippers instead of velcro stickers
7. Kiddey 3-Piece Indoor-Outdoor Play Tent – Best Design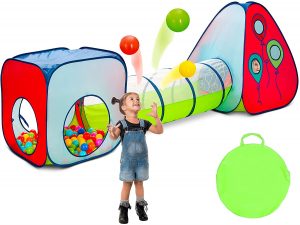 Another Kiddey-manufactured indoor-outdoor tent is this multi-color set that's durable and sturdy. It encompasses vibrant colors ready to help your child distinguish objects at a young age. What's more interesting is that the material used in tents and tunnel has been designed that suits children of all ages, even catering to pets as well! Purchasing this play tunnel gives you a soft fabric for your child's delicate skin, coupled with a breathable mesh material that passed the Toy Safety Guidelines.
You would be surprised at how easy this tent can be assembled. Although it comes with a set of instructions, kids can set this tent quickly, of course, with your supervision. In case your child got tired of playing, you can store the accessories inside the set's included the carrying case.
Included items in this playset are a triangular tent, a cube tent, and a crawl-through tunnel long enough to cater to your kid's imagination. You can put pillows, blankets, and pit balls inside the tents and tunnel for added fun and experience.
Pros
Each piece can be used individually

Long play tunnel perfect for chasing games

One of the play tents kids would love for its vibrant colors
Cons
Pit balls aren't included
8. Sunny Days 6-Foot Play Tunnel – Best Value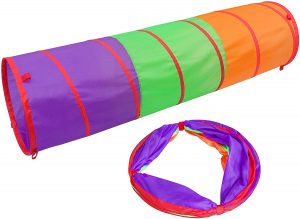 Sunny Days markets a multi-color tunnel that's perfect for your kid's muscle growth, cognitive abilities, and critical thinking skills. It also features secondary colors: violet, green, and orange. It's one of the simplest tunnels in this round, but with a twist: it's collapsible and made with lightweight nylon. Its unique design offers your child more creative play, as they can shape the tunnel to whatever shape they could think of.
Moreover, this is a six-foot-long tunnel where kids can play peek-a-boo. This can be carried anywhere at your home's convenience since it doesn't take much space once assembled. When the play time's over, you can easily fold the structure flat and compact before storing it. It has three velcros attached so that it secures your kid's tunnel when not in use.
Sunny Days advertises this play tunnel safe for children and toddlers. The materials used are CPSIA, ASTM F963, and CPAI-84 (gold standards for toy safety) compliant. You can buy pit balls separately to add imaginative play for your kids. Opening the tunnel gives you a 19-inch diameter.
Pros
Ensures safety standards for kids

Connectible to pop-up tents

Durable and sturdy enough
Cons
Struggles with tying velcros
9. UTEX 3-Piece Space Astronaut Play Tent – Best for Little Astronauts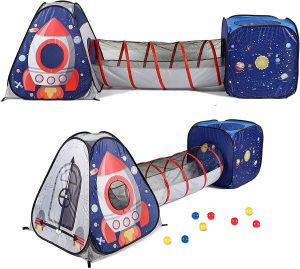 Kids who are into space and planets would definitely love UTEX 3-piece space-inspired playset: a triangular teepee, a square tent, and a tunnel with windows made with mesh. Specifically, it features astronaut figures, solar systems, rocket ships, and so on. This creates a more imaginative play for kids and toddlers as it stimulates their creativity at hand. They can share and create galaxy stories while they're inside this play tunnel.
You won't need tools when setting the teepees and tunnels. It's one of the pop-up playsets that are easy to set up, organize, and assemble. When kids are tired of playing, you can use the carry bag to store the play tent. In this way, the tunnel play doesn't pop up accidentally.
UTEX ensures your child is safe while playing with their manufactured tunnels and tents. It's made with premium, colorful 190T-grade polyester that is safe for your kids. Additionally, it boasts the tunnel's materials durability that can withstand years of play and use.
Pros
One-of-a-kind indoor-outdoor play tunnel for children and toddlers

Stimulates your kid's imagination and creativity

Great tunnel play for indoor and outdoor use
Cons
Tunnels are loosened sometimes
10. Hide-N-Side Princess Tent with Tunnel – Best for Little Girls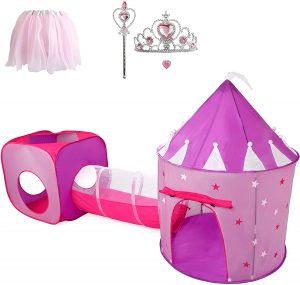 There's no other way to get your little princess to feel like they're among Disney characters than these play tunnels coupled with a castle and square teepee. Little girls would definitely have fun playing inside the tents because of its magical-themed castle. It's one of the best play tents in this round that caters to your child's imagination as they can play hide-and-seek and princess roleplays or just want to chill.
The play tunnel kit includes accessories to make your little one feel like they're a real princess. In this kit, your kid gets a tutu, wand, tiara crown, and a ring. It's a tremendous indoor-outdoor use as it's made with thick steel wiring, ensuring sturdiness despite windy conditions. Plus, it utilizes a premium-quality polyester fabric that's guaranteed safe for your kids.
The best part of this play tunnel is that the stars glow in the dark. Yet, you need to "charge" the tent first by placing it under the sun for ten minutes. Like other play tunnels mentioned in the list, the princess play tunnel comes with a handy and compact bag to store the play tunnel with ease.
Pros
Features stars that glow in the dark

Provides comfortable shelter in both indoor and outdoor use

Develops your child's motor skills and leg muscles with the help of the crawl tunnel
11. Hide-N-Side Crawl-through Play Tunnel – Best Stand-Alone Tunnel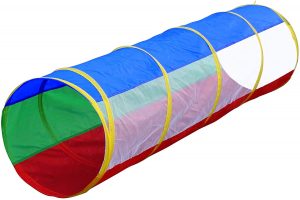 Another play tunnel that makes a great gift for toddlers and children is the crawl-through play tunnel made by Hide-N-Side. Unlike other tunnels mentioned in this round, this tunnel highlights a stand-alone platform for kids and toddlers, which measures 6 feet. The design is made with a durable wire frame and great material that prevents wire poking. No tools required when assembling this play tunnel.
Besides the play tunnel's mesh arches, it highlights a room large enough for many kids to crawl inside. Furthermore, the play tunnel is a fantastic crawling room for developing your kid's muscles, motor skills, and coordination abilities. It's also safe for your kids to crawl inside this play tunnel, as the manufacturer uses a soft polyester fabric.
Pros
Accents a large inner space and mesh-window tunnel

Has a flat bottom for more comfortable crawling

Lightweight and portable

Comes with a carry bag that makes it easy to store
Cons
Thin padding around the wire
12. Lojeton Fairy Tale Tunnel – Best for Little Princesses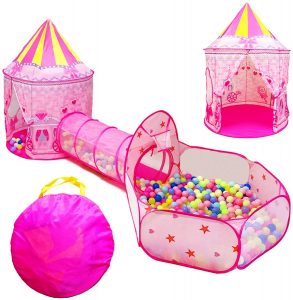 Another princess-inspired play tunnel and tent in this list is the Lojeton Fairy Tale Castle. Moreover, included in this item are a castle teepee, a play tunnel, a ball pit, and a zipper carrying case. What you'll love about this play tunnel kit is that it comes with a basketball hoop, so it's better if you have ball pits for added fun and experience.
Kids can customize how they want their maze to look like—a good activity that encourages imaginative and creative play. Plus, you'll appreciate Lojeton's use of mesh windows that allows the air's circulation while keeping the bugs out. This is also convenient for claustrophobic kids and parents, as the play tunnel and tent have a spacious interior.
Like the majority, the teepee, crawl tunnel, and ball pit are pop-up, which means they are easy to assemble and store. The material used is made with soft polyester fabric and thick steel wiring, ensuring your kid's safety while they play.
Pros
Great pop-up play tent for indoor-outdoor use

Each accessory can be used separately

Lightweight and portable to carry
Cons
Pit balls aren't included
13. EocuSun 3-in-1 Play Tent with Tunnel – Best for Toddlers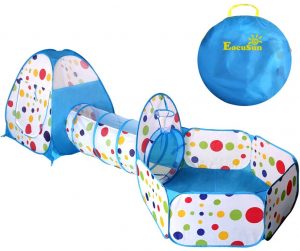 Watch your children as they unleash their creativity and critical thinking skills with the EocuSun's cheerful teepee playhouse, play pit, and play tunnel. It stimulates your child's perception with its polka dots designed with different colors. EocuSun advertises their play tunnels and play tents as kid-friendly, even toddlers 12 months of age can enjoy crawling inside the teepee.
You'll also appreciate the fact that it's made with polyester fabric material, guaranteeing a safe platform for your child. It's also bug and mosquito-proof, thanks to its breathable mesh design. You don't have to worry about steel wirings popping out accidentally since EocuSun tents and tunnels have firm steel holders and safe hoses. Besides, these are double-sewed to avoid accidents.
Although play balls aren't included, you can still add a personalized experience for your kids. You can put pillows and a comforter to let your kids chill while reading them their favorite books. After all, it's all about creativity and imagination!
Pros
Pop-up play tent for indoor-outdoor use

Perfect for toddlers to learn how to crawl

Great for home use, especially when you don't have a big play area
14. Yoobe 8-Piece Children Play Tent and Tunnel – Best Splurge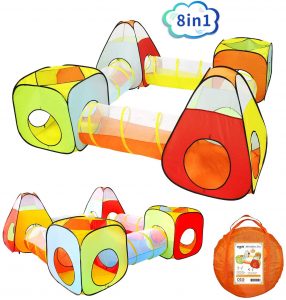 Yoobe play tent and tunnel includes a whopping number of accessories in this round, 8 pieces to be exact! It combines 4 play tents and 4 play tunnels that can be used individually or attached entirely, depending on how your kids want them. It's a perfect gift you can give as it's marketed for children aged 3 to 8 years old.
Kids can have endless opportunities to create their own maze options, making their games more interesting. They can even build a labyrinth tunnel featuring the materials' warm colors. There's nothing to worry about assembling the play tunnels and play tents since all of these accessories are pop-up and portable. Besides, the play tunnels are easy to clean; you'll only need a damp cloth!
Pros
Giftable item even for toddlers who just learn to crawl

One-of-a-kind pop-up play tent

Provides much fun and exciting activities for children
Cons
Much better if the tents feature hook-and-loop
15. Kiddey Caterpillar Play Tunnel – Best Theme
Kiddey play tunnel comes in two pieces: a long body and caterpillar head on one end. You'll love this item because the teepee highlights a smiling caterpillar with a teepee antenna. At the same time, the play tunnel features a long body with legs. Further, this engaging 2-piece play tunnel is specifically designed to aid children with their early development.
Additionally, it's meticulously crafted to ensure your child is safe while they play. The manufacturer uses a premium polyester fabric, double-stitched for extra protection and durability. Nevertheless, assembling this cute caterpillar would just be a piece of cake since it's easy to pop up. It also folds flat, so you'll save time folding it before storing the play tent and tunnel in a bag. Take note that a storage bag isn't included when purchasing this item from Amazon.
Pros
Unique teepee design for kids

Aids children with crawling

Setting up the teepee is a breeze
16. Pacific Play 4-Way Tent – Best Teepee Gleam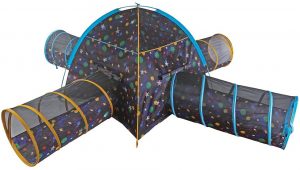 Kids love to crawl and chase their friends in tents and tunnels. There's no other way to provide them with the best hide-and-seek activity than the Pacific Play tents that encompass four tunnels on each side. To add, each tunnel has interior padding and uses spring-steel construction for added comfort while children play. Pacific Play tents highlight a durable 70 Denier polyester fabric, making it water-resistant and washable teepee.
The real standout feature here is the glow-in-the-dark stars, which adds more fun and experience to your child while playing. Nothing would ever ruin your kid's activities with this play tunnel, as it can't be easily ripped or broken. In fact, the sides are double-stitched and reinforced to avoid pop-out wirings.
Getting this play tent allows your child to build confidence and develop strength. In case you have other teepees, you can easily connect those tents on one end for added activity.
Pros
Introduces kids to space and galaxy at a young age

Pretty customizable teepees and tunnels

Simple to set up and store
17. Pacific Play Tents Super Sensory – Best Fabric Polyester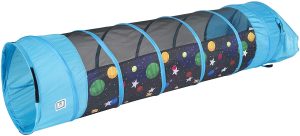 Another play tunnel made by Pacific Play Tents manufacturer is the Super Sensory Institutional crawl play tunnel. What makes this a unique toy tunnel in the list is its flame-retardant polyester fabric, which creates a safer teepee for your kids. It adds a fun experience for toddlers who just learned to crawl, considering this tunnel's spacious interior.
This isn't a pop-up crawl tunnel, but it accents a self-standing hook-and-loop style for ease of assembly. Perhaps this is the longest tunnel mentioned in this list since it's 9 feet long. Given the name, you'll appreciate how this play tunnel helps your kid develop their coordination muscles and motor skills. After all, simple chase and peek-a-boo games can unleash your child's inner abilities effectively.
Pros
The tunnel is flame-retardant, washable, and water-repellent

Can withstand rough play and spills

Encourages children's muscle development
Cons
Some parents don't like the hanging streamers