Best Kid Detective Kits for the Mini James Bond in Your Life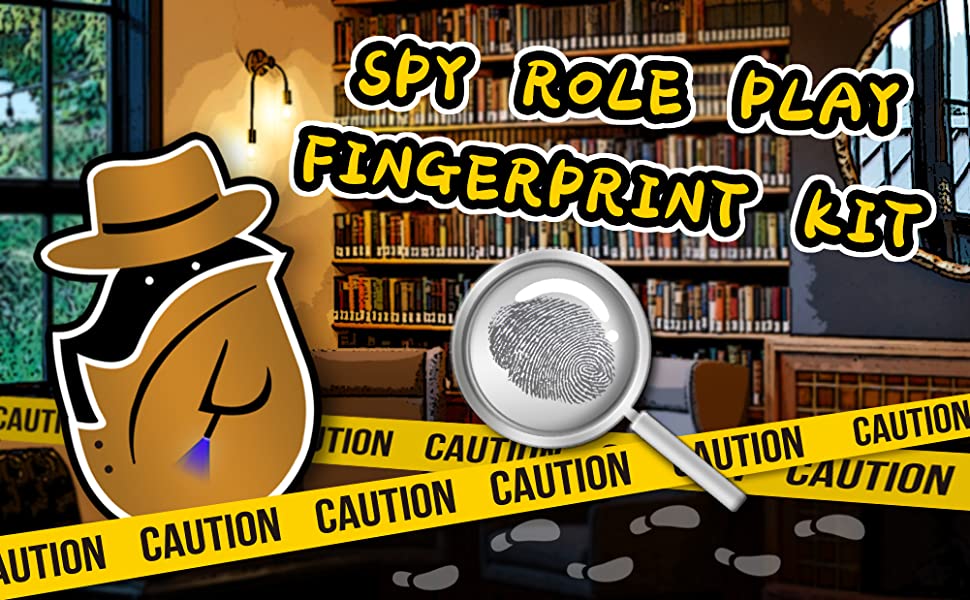 Spy kits and gadgets can not only turn your kids into detective agents but also help them learn the skills needed to solve mysteries. Besides, spy kits serve as great learning tools for kids to light up their imagination while appreciating the value of forensic science at a young age.
Take note that spy kits aren't considered as toys alone. In fact, they're the best gift to introduce kids to the wonders of laboratories with scientific processes. Lastly, spy activities give children a break from device screens.
If you're looking for the best spy kits for kids, you're on the right track. We've included several spy kits that received top reviews from Amazon in this round.
1. 4M KidzLabs Fingerprint Kit – Best Overall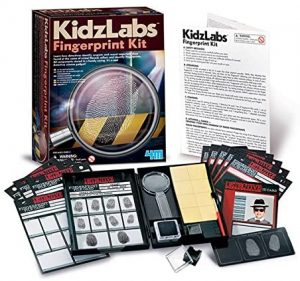 One of the main processes involved in a crime scene investigation is fingerprint identification. Help children discover the world of forensic science with the 4M KidzLabs fingerprint set. What makes this spy toy the best is the activities and materials included in the educational toy. The kit includes ten fingerprint cards, a dusting powder, stamp pad, brush, and twenty stickers for collecting fingerprints. All items are sealed in a solid plastic case.
Instructions for using this detective toy come in handy, so kids can learn even by themselves. It's recommended for eight years and above but is convenient to use for the whole family. Take note that the activity can be messy; kids might find fingerprint inks a little smeary.
4M KidzLabs fingerprint kit lets your kids become detectives, identify suspects, and document clues. It's also STEAM accredited, combining fun and educational toy kits for kids and teens. Learning forensic experts' way of collecting fingerprints was made easy with the 4M KidzLabs gears. Older kids can use this spy gadget to identify the "culprit" for eating the last cookie in the fridge!
Pros
Educational and entertaining toy gift for kids

Cool kit accredited by STEM

Includes instructions on how to use the materials
2. Melissa and Doug Secret Decoder Set – Best Quality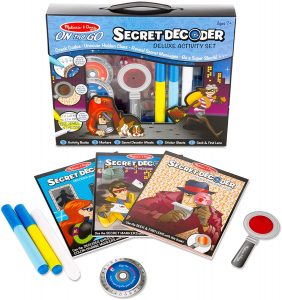 Unleash your child's detective skills with this Secret Decoder Set by Melissa and Doug Store. This spy kit for kids includes everything your child needs in cracking codes, decoding clues, and revealing secrets. The kit is designed to encourage young minds to solve over 50 activities contained in this set. You'll also get a decoder gamebook, seek-and-find gamebook, an activity pad, and magic-reveal sticker sheets. This spy toy is advertised as an on-the-go traveler kit.
This kit makes a great gift for young ones aged seven to nine years old. They can play this game alone, with siblings, or with you. To figure out some decoded messages, kids can use decoders to decipher words. Toys can be fun to play games with, but there's nothing better than providing children with activities that enrich their cognitive skills through this set.
A bonus toy included in this Secret Decoder Set is the invisible ink marker. Kids can write secret messages on the walls or tables without damaging their paint finish. If you're looking for the perfect time to introduce your kids into the detective world, this is it. Melissa and Doug's Secret Decoder Set is a great help.
Pros
Promotes activities great for critical thinking skills

Helps children learn and decode messages

A spy gear that encourages self-confidence at a young age
Cons
Too big for an on-the-go spy gear
3. Alex Super Sleuth Kit Kids Spy Kit – Best Gears for a Secret Agent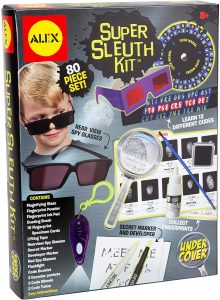 If you're looking for a toy spy kit for kids, look no further with Alex Super Sleuth Kit. It has the best mystery spy gears in this round, considering the set includes everything your child needs to become a detective. Alex Toy store markets their spy kit set with 80 items. Included in this set are magnifying glass, fingerprint powder and ink pad, dusting brush, ten fingerprint specimen cards, and lifting tape.
But hey, the mystery doesn't end here! Kids aged 8 years and above will learn 12 different codes. Kids would also find rearview glasses, a secret marker, red spy gear glasses, a flashlight, and a code booklet inside the set. It's also mentioned that this spy kit has two decoder packets, two code wheels, and two code tubes. A set of instructions is included as well!
Any detective kid would love this educational spy kit set. They can solve a case, decode a message, and play this game with other friends.
Pros
Lots of cases to solve

Involves fun and educational activities, games, and experiments for detective kids

Great for building the academic skills of your child

One of the best spy gear kits in the market
Cons
It might be difficult for little kids
4. Osmo Detective Agency Kit – Best for Trivia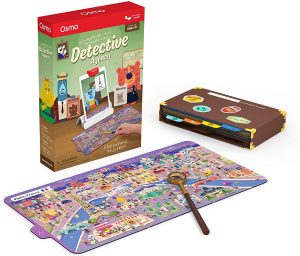 Osmo Detective Agency turns your kid into a secret agent in no time. Osmo manufactures a hands-on learning game specifically made with kids in mind. With this spy kit, your kid would learn landmarks around the world. It involves trivia facts about a landmark's history, culture, and geography –all with the help of Osmo's magnifying glass!
The spy kit includes four double-sided maps, a magnifying glass, a map holder, and a Detective Agency game application. However, the game app is compatible with the iPad and Fire tablets. Osmo Detective Agency Kit introduces a game to teach young minds historical trivia while enhancing their critical thinking and observation skills. All items are beautifully designed and packaged.
Kids will love exploring the magical world of Osmo. The characters take kids into an adventure of solving mysteries and understanding trivia through fun games. Osmo Detective Agency Kit is perfect for children ages five and above. Kids can spend hours playing with this detective game without worrying about their educational experience.
Pros
The magnifying glass makes kids feel they're detectives

Serves as an educational extension of landmarks and histories

Includes real places around the world
Cons
Not best for teens since the difficulty level accommodates kids ages 5-9
5. 4M KidzLabs Spy Science Secret Messages Kit – Best for Secret Messages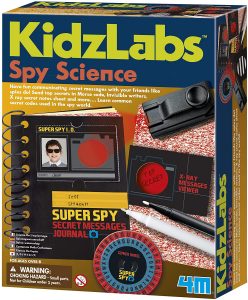 Another scientific toy kit that brings out the inner agent in your kid is the Spy Science Secret Messages Kit by 4M KidzLabs. This spy kit set comes with materials that guide kids into the world of spy agents' communications. This detective toy includes a super-spy journal, x-ray notes, an invisible white pen, a black message developer, and a cipher well. Crime scene investigation became more interesting with 4M KidzLabs' code library, morse code shutter torch, and a super-spy ID card.
The recommended age range for this product is for kids 8 years and above. They can communicate, send, and receive messages secretly using this Spy Science Kit. With the help of spy markers, kids can conceal messages instantly. The only way to decode the message is by using the 4M KidzLabs' unique decoder lens.
This spy kit comes with handy instructions that encourage your child's creativity and imagination. Besides, the set features all the spy communication methods used by secret detectives in movies. Great for kids learning the spy world complemented by science!
Pros
Secret messages are concealed properly with this kit

Provides fun and entertaining activities for little children

Solve mystery messages during free time
Cons
Needs to assemble journal first
6. Alex Undercover Spy Case Detective Gear Set Kids Spy Kit – Best for Boys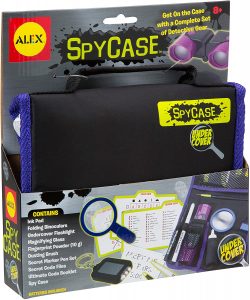 You can never go wrong with Alex Undercover Spy Case Detective Gear Kit for kids. This spy detective gear is similar to Alex Super Sleuth Kit, but your kid gets a black nylon case to store all their spy gear items conveniently. What you'll love about this item is its sleek case, so your spy kid is ready for any mission. One of the best gifts you can give to your 8-year-old kid, especially for boys.
All the items kids need to solve a case and lead a crime scene investigation is included in this detective kit. Inside the box, kids will find an ink pad, folding binoculars, an undercover flashlight, a magnifying glass, ten grams of fingerprint powder, and a dusting brush. In decoding isolated cases similar to spy movies, this play set has secret marker pens, code files, and a booklet.
Although this spy kit doesn't have a mystery case involved, detective kids can use their imaginative play to create one. Alex Detective Kits for kids promise endless opportunities with the spy items included in the set.
Pros
Has a carrying case for on-the-go detective kids

Lots of items and gears included, unlike other kits

Batteries included for the flashlight to work
7. Scientific Explorer Crime Catchers Spy Science Kit – Best Science Kit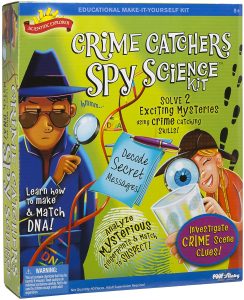 Scientific Explorer makes solving crimes and mysteries more educational with their Crime Catchers Spy Science Kit. Inside this spy kit, kids would find everything they need to solve two exciting mysteries. Plus, the kit comes with eight activities, perfect for improving their observation and critical thinking skills.
Scientific Explorer Crime Catchers Spy Kit is based on real crime scene investigations. Aside from it being educational and fun, the spy kit contains materials that would help them gather pieces of evidence. Inside this kit are two baking soda, citric acid, and flour. The kit involves strips, markers, cups, and cards to help children with the investigation process and collect a fingerprint. You'll also get test tubes, decoders, and pH strips.
The recommended age range for this kit is 8 to 15 years old kids. At the end of the day, kids can learn more about the DNA and fingerprint identification process. If you're looking for a science kit that'll introduce your kids into the world of forensic science, the Scientific Explorer Crime Catchers Spy Science Kit is helpful.
Pros
Fun and educational toy for solving mysteries and games

Based on real forensic science processes

Lots of kits included that kids can use from the set
Cons
Some necessary items aren't included in the spy kit set
8. SpyX Micro Spy Gadgets Gear for Kids – Best Spy Gears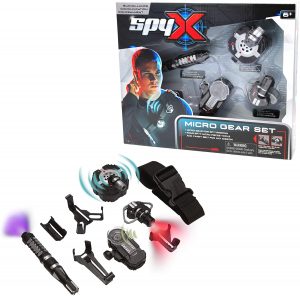 A secret agent needs spy gears that need to be within their reach, considering evidence may pop out anytime. SpyX Micro Gear Set comes with the most advanced, must-have gears that your detective child needs. This spy gear kit contains the necessary spy gadgets for a kid to be considered a spy: micro ear light, invisible ink pen, micro motion alarm, and micro listener.
Kids would definitely love these items at hand. The micro ear light spy gear is attachable to an ear, enabling them to see in the dark without actually holding the light. Other kits included are the micromotion alarm that detects any form of vibration and a micro listener that allows children to hear sounds in the distance. Any secret agent might need to conceal and decode messages, so an invisible ink pen toy is included in this kit.
The best part of this is that these items are attachable to your body, thanks to the adjustable utility belt. Possible evidence appears? Unclip any gear from the belt quickly. Bet children would feel like a real James Bond type stuff in no time!
Pros
The adjustable belt provides immediate access to any spy gear

One of the best spy kits for kids ages 6 to 15 years old

Working spy toys included in this spy kit

Spy gears promote learning and imagination
Cons
Each spy gear needs batteries to work
9. SmartLab Secret Message Lab Purple – Best for Girls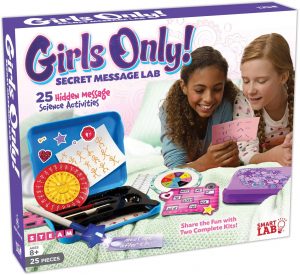 SmartLab Secret Message Lab kit is one of the best detective toys you can give to little girls, as the manufacturer designed this toy message with them in mind. In this toy, girls get two cases, two UV ink pens and lights, two red filters and markers, two wax crayons, and two spray bottles. Additional kits involved sending and decoding messages, such as code wheels, code cards, message masks, sticker sheets, and an activity book.
This toy provides fun and educational activities for little girls for concealing messages they don't want to reveal to other people. All the spy gear included in this toy set comes in a designed package, perfectly fitting in a bag. You'll also love the idea that this gift toy is "repeatable," as it doesn't wear and tear easily.
Pros
It creates fun and exciting games and activities for little girls

The gear included in the set make girls' free time educational

Perfect for science experiments with kids

Easy to use and convenient for your 8 year old kid
Cons
Has chokable items, not for toddlers
10. Spy Ninjas New Recruit Mission Kit – Best for Solving Cases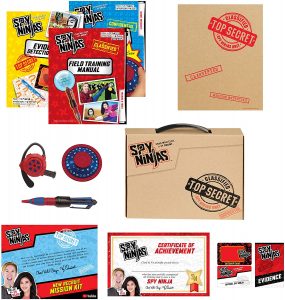 Give your kids one of the educational spy kits in the market with Spy Ninjas New Recruit Mission Spy gadgets. The detective kit includes everything your child needs to become a secret agent in no time. This mission play set involves a box case, spy activities in books, an ID card, a decoder card, a message spy pen, a ninja noise enhancer, a decoder wheel, and a certificate of achievement.
Take note that these spy gadgets aren't your ordinary toys. They help kids learn how forensic science experts and agents decode messages with the use of UV light. Meanwhile, they'll experience being a real-deal detective agent with the set's noise enhancer so they can hear what the enemies are planning about.
Pros
Best gift idea for 6 year old kids

Spy kits involved make kids feel an undercover agent

Perfect spy gear kit for kids to solve a crime scene

Kids can use the UV light to see messages

Help kids use their imagination to solve a case
Cons
Some of the items need batteries to work
11. Purple Cow The Crazy Scientist Lab Young Detectives Kit – Best STEAM Science Kit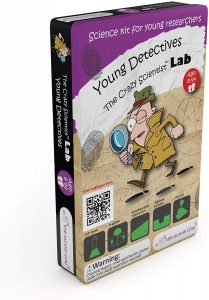 Any detective kid would love this toy that works wonders. The Purple Cow Crazy Scientist Lab Young Detectives Science Kit comes with all spy gadgets that kids need to learn forensic science at their home's comfort. It consists of the best toy for extracting fingerprints on any surface.
Kids can unleash their investigative and observation skills with this science play set, making science fun, educational, and easy. It's also one of the best spy gadgets you can give to kids who are fans of science, primarily crime scene investigations and documentaries. These educational toys make teaching science easy for parents like you. It also includes step-by-step instructions for any experiment deemed necessary.
Girls and boys would love to conduct science experiments with Purple Cow Crazy spy gadgets. They'll feel like they're only doing magic tricks with cool lab experiments!
Pros
Creates a fun and educational science experiments for kids

Introduces children with cool lab activities and games

Science learning for kids made easy

Helps kids learn fingerprint extraction
Cons
Household items are necessary to use and work with fingerprint lab activities
12. SpyX Micro Motion Alarm – Best Spy Alarm for Kids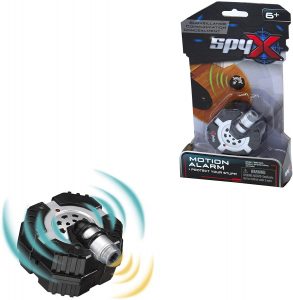 Spy kids would enjoy having detective toys that protect them from enemies. If you're looking for one, SpyX Micro Motion Alarm is the best gift for children, which they can add to their spy collectibles. With this fun spy motion alarm toy, kids can protect their important stuff while they're on a mission.
Aside from protection, the SpyX Alarm toy alerts you when an enemy or intruder touches your valuables. It's also designed in a way that it can't be easily recognized by enemies. The best part of this alarm is that it's portable; you can work on decoding a message while keeping your back safe from enemies. Also, the best alarm toy you can get to spot who's eating cookies late at night.
Pros
Best spy alarm gift in the market

Best for detecting intruders in a room

Fun and entertaining to play with

Little kids can detect any motion and vibration in an instant
Cons
Doesn't involve many spy kits
13. Scavenger Hunt Game for Kids – Best for Family Detectives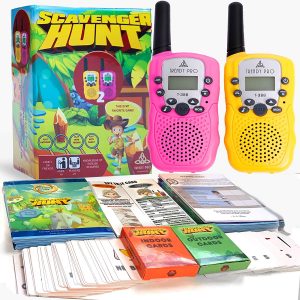 There's no other way to enjoy detective hunts, activities, and games than doing them outdoors. With Scavenger Hunt Game for kids, you'll get everything you need for a fun-filled family experience. It's the best detective gift you can give to a family who's into camping trips or hunting activities.
It's advertised for kids and parents and certified a boredom buster. The spy tools included are two walkie talkies, game mission instructions, two spy training reference cards, indoor and outdoor scavenger cards, and a scoring sheet. In case your family's new to these types of spy activities, Scavenger Hunt places a guided instruction to make your detective adventure worthwhile.
Families can form two groups; members can make up secret spy names and handshakes. With spy walkie talkies, they can send and receive messages. Perfect spy gift to free time and make it a great family bonding time.
Pros
Families can play detective tools in their free time

Includes the best spy gadgets for family members

Fun and entertaining to play with

Easy to use since instructions are included
Cons
Spy gadgets need batteries to work
14. SmartLab Spy School Sneaky Surveillance – Best Spy Kit Training
Spy-wannabe kids would find SmartLab Spy School Sneaky Surveillance one of the best spy kits in the market. It consists of spy gadgets kids would love to have on becoming a master spy. For instance, the gadgets immerse children in fun and playful spy training programs included in this kit.
Spy gadgets you'll find in this kit are a decoy spy storage with a hidden compartment, pencil box periscope, a two-in-one spy scope, rearview glasses, mirrors, magnifying glasses, and a microphone with an earbud. Besides, it consists of a 24-page illustration book where you'll see added activities with masked viewing props. They can see distant enemies with the help of collapsible binoculars.
At the end of the day, you'll observe your kids get more tricks of the trade through the SmartLab Spy School Sneaky Surveillance gadgets. They'll also learn to disguise themselves so that enemies wouldn't know they're an undercover agent!
Pros
Kids can use the spy gadgets at the comfort of their room

Best gift for little ones who want to master being a spy

Provides additional activities for children

Recommended for kids ages 8 years old and above
Cons
Materials are made with cardboard