Best Magician Sets for Kids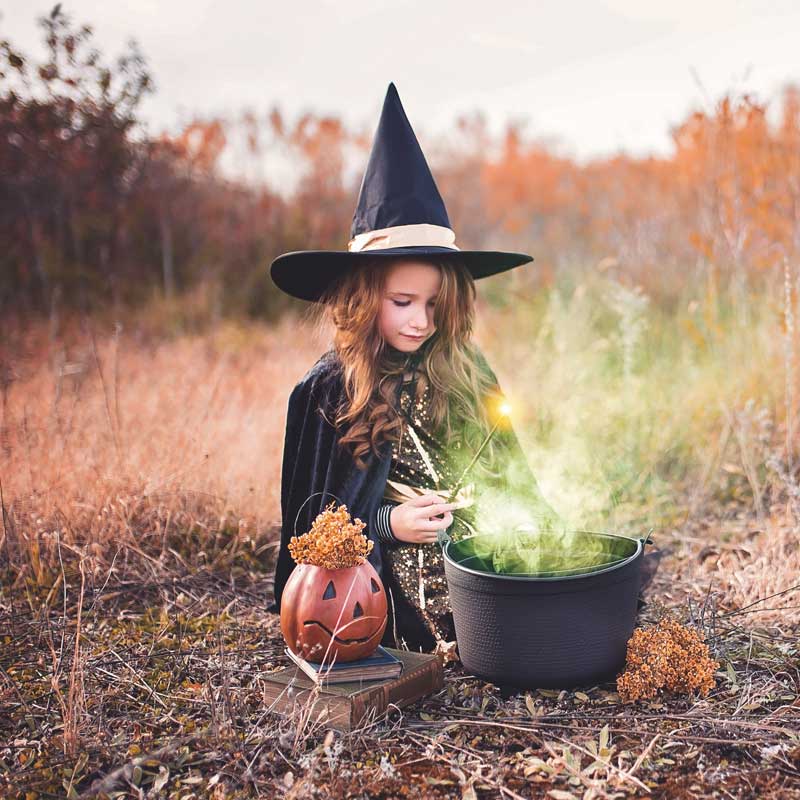 Kids always find tricks amazing, so why don't you give them the best set they can use to explore the world of magic?
With magic, anything seems possible: disappearing acts, levitating objects, and changing color. The good news here is that you can try these activities while in the comforts of your home.
Finding the best magic sets for kids can be tiring. You'll need to consider the props, recommended age, and involved tricks. Besides, you must know if it includes instructions to keep your kid's pace at ease.
We've done the search process for you. Below you'll find the list of best magic kits for kids, highlighting what each kit does best.
1. National Geographic Magic Chemistry Set – Best Overall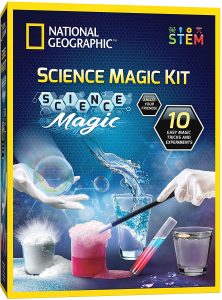 National Geographic wins as the best magic set for kids in this round. It's one of the top-rated magic kits from Amazon, providing children an incredible kit that combines the world of magic and science. It includes everything your child needs to conduct ten scientific experiments that double as magic tricks! Although this magic set is recommended for kids aged 8 years old and above, teens and adults can do tricks in an instant.
With the National Geographic magic chemistry set, children can learn basic props methods, pH reactions, carbon dioxide reactions, and chemical properties. With the materials in this kit, children can magically change a solution's color, float water on sand, disappear water, create snow in hand, catch bubbles, and make coins float. With a reasonable price, this magic kit for children doesn't only ignite your kid's scientific exploration but also deepen their language knowledge. After all, magic tricks should be entertaining and educational for children and adults.
Pros
This magic set contains multiple science projects

Creates a fun and educational way for children to master science

Includes a handy instruction to deliver experiment
2. Scientific Explorer Magic Science for Wizards – Best Science Magic Kit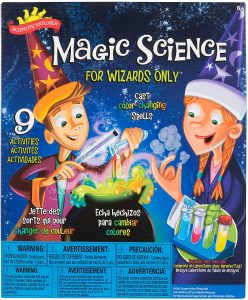 Turn your children into wizards with the help of the Scientific Explorer magic kit for kids, featuring educational science. Moreover, this magic kit science allows children to learn nine activities using chemical reactions they can use in their stunts. Children aged six years old and above can go into remarkable science experiments with the props included in this magic kit: citric acid, baking soda, vegetable oil, zinc sulfide, and many more.
With the included props in this magic kit, children can create their very own frothing potion that changes colors and boils before their eyes. Children also get stuff that allows them to make test tube crystal balls to see the future! It's a good kit kids can use to amaze their friends while harnessing their sorcery skills. We're sure that you and your child will appreciate the Scientific Explorer Magic Science Kit for kids. Aside from its educational value, the magic set develops your child's critical thinking, problem-solving, and exploration skills.
Pros
Children can have a great time creating magic tricks with this set

Instructions are included and well-written

Great combination of magic and science
3. Melissa & Doug Deluxe Magic Set – Best Quality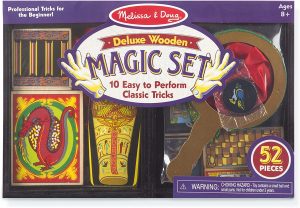 You can never go wrong with Melissa & Doug Deluxe Magic Set when it comes to magic kits for kids aged eight to ten years. With its impressive deluxe magic set, children can learn easy-to-master magic tricks that build confidence, motor skills, and hand-eye coordination. What's more, this magic set allows kids to perform ten classic tricks, thanks to an instruction manual included in this magic kit.
With this kit, children can stun their friends and relatives with the following magic tricks: disappearing ball, magic coin box, secret silks, great escape, and magic number prediction. Aside from these well-known tricks, children can astound you with moneymaker, prediction, vanishing zone, cylinder squeeze, and disappearing coin,
The fun doesn't end here. With the magic tricks they learned, they can show their skills off through a simple magic show. Meanwhile, Melissa & Doug Deluxe Magic Set has a sturdy compartment included to help your child store and organize their materials when not in use.
Pros
Perfect for teaching your child with individual tricks

Develops your kid's imagination

Materials are made with premium construction
4. Ideal My First Magic Show Magic Set – Best for Beginners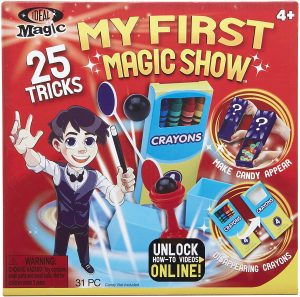 In addition to top-rated magic sets for kids above, the Ideal My First Magic Kit is among the affordable magic kits you can get online. This magic set advertises 31 high-quality props, allowing your child to perform a total of 25 tricks. The bonus part of this magic set? The set comes with an instructional DVD and codes for online videos for your child to watch while they're mastering tricks for each prop.
The tricks in this magic set are slightly different from other sets that made it to this round. The Ideal My First Magic Kit is perfect for newbies, teaching them the same tricks that a professional magician does. Props included are a vanishing crayon, magic drawer box, traveling crayons, color cube, a ball and vase, magic paint card, curved strips, lollipop mystery, and many more. At the end of the day, you'll be amazed by your kid's magical illusions.
Pros
Right learning curve for entertainment

Lots of magic props included

Has access codes to online videos for additional instructions
Cons
Younger kids need their parent's guidance
5. Uncle Bunny Starter Magic Tricks Set for Kids – Best Value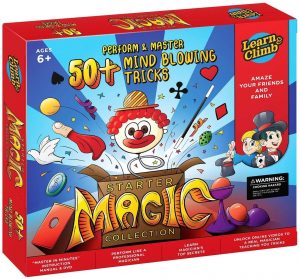 You can't deny Uncle Bunny Starter Magic Tricks set for kids is way cheaper than other brands in this category, but it's worth it! Spending $20 on this item gives your child several props to astound friends with over 50 mind-blowing tricks. Included props to master tricks in this set are cups and balls, an illusion box, ball and vase, mind-reading magic box, dove family, scarf finger, a dice-box, coins box, cards, growing cards, and finger chopper. Of course, a magic wand to complete your kid's magician look!
Every magic trick is made fun and simple with Uncle Bunny Starter Magic Tricks set with the included instructions that are easy to understand. Plus, an instructional DVD to help your child master each trick. In case children are tired of showing their magic skills, they can store their props in this set's sturdy box that's neatly packaged and delivered. One of the best magic kits you can give to a child age 4 and above.
Pros
Provides easy-to-learn tricks

Involves more magic tricks than competitors

DVD instructions are easy to follow
6. 3 Bees & Me Deluxe Magic Set – Best for Magic Twist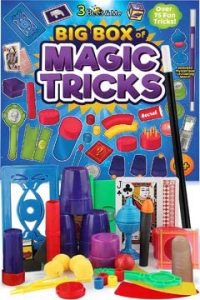 Another way to introduce younger children into the world of magic is with the 3 Bees & Me Deluxe Magic Kit Set. This playset is a great way to keep your kids busy but with a mystical fun and twist. Inside they'll get various props they can use to create 75 jaw-dropping magic tricks! Some of those items include the classic cups and balls, a coin paddle, mind-reading box, penetrating frame, money transformer, money tube, and many more.
Children can astound friends and families with this action-packed present. Bet your kid's the only one who'll know how to levitate that wand at the end of the day. For you and your kid, performing magic tricks would be just pure entertainment. Little do they know this 3 Bees & Me Deluxe Magic Set promotes hand-eye coordination, builds confidence, and develops cognitive skills. In case your kid doesn't love this set (which we know would never happen), the manufacturer gives a generous 60-day money-back guarantee you can enjoy.
Pros
Includes a refund for customers

Props are made with high-quality materials

The magic kit involves the classic card tricks
Cons
Cards don't come in a full deck
7. MasterMagic Kit for Children – Best Accessories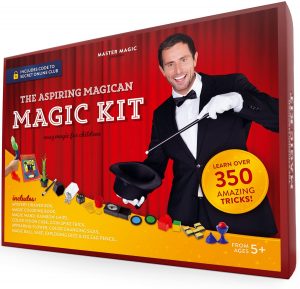 What makes MasterMagic Kit for children unique in this round is it features over 350 magic tricks kids can complete with this magic set alone. Considering this list of magic tricks, we're sure it's worth spending your money on this item. The set comes with the Magic Coloring Book, which can be your child's next favorite trick. Additional props included are a magic wand, mystery drawer box, exploding dice, rainbow chips, and many more.
Aspiring kids can advance their magic tricks with the help of eBooks included in the set. Once purchased, you'll get a secret online club card that lets you access "Modern Coin Magic," "Encyclopedia of Card Tricks," and "Expert at the Card Table." Tricks included in this magic set are ideal for children ages 5 to 14 years old.
Pros
Includes access to eBook learnings

Ideal for beginners

Creates 350 different magic tricks

Contains a magic coloring book for added entertainment
Cons
Some tricks require props that aren't included in this magic kit
8. Melissa & Doug Magic Abracadabra Collection – Best Magical Collection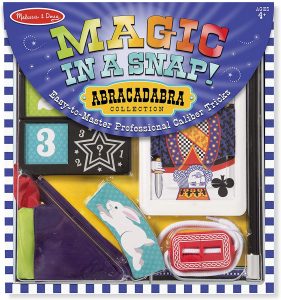 Turn your kid into a professional magician with Melissa & Doug Magic Set, specifically with its Abracadabra Edition. Tricks in this collection are recommended for kids four-year-olds and above. Although the Mellisa & Doug Store Abracadabra edition only includes ten magic tricks, it gives your child unique caliber tricks they can try to impress their friends.
From changing the card king to queen to changing silk color, stretching card, and cutting ropes, these tricks will surely leave your kids' friends in awe. Meanwhile, the manufacturer implements an illustrated instruction that is easy to follow and understand. Little magicians can master the tricks, perform magic, and improve problem-solving (since most of these tricks stretch your child's imagination). Nevertheless, younger kids can learn their first magic tricks with Melissa & Doug Abracadabra Collection's help.
Pros
Made from a reputable toy manufacturer

Kit includes unique props for different tricks

An instruction manual included
Cons
Kids who can't read might see magic tricks complicated
9. Learn and Climb Mega Magic Kit for Kids – Best Professional Kit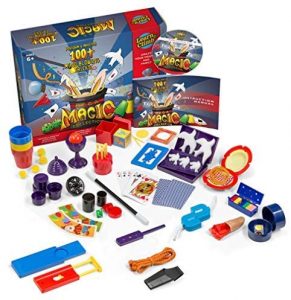 Mega Magic Kit for kids is the best magic kit you can give to toddlers–the recommended age is 4-year-olds and above. Moreover, this mega magic kit contains a total of 28 props; some of these include the coin escape, dice, rainbow bricks, magic mystery spinner, dove family, magic rope and cutter, spiked coin, finger chopper, and many more.
With the listed number of props, it's the best magic set for kids to master magic. The great part? Younger children can master over 100 tricks and activities! And to make sure your child is getting the fun and entertainment these tricks serve, Learn and Climb Mega Magic Kit for kids includes a clear instructional booklet and DVD to aid your child when using props.
Further, the props included in this magic kit are made with the highest-quality; they don't wear-and-tear quickly. Plus, the magic kit has a 2-level platform box where your children can store and organize their magic props when not in use.
Pros
One of the best magic kits for kids in terms of accessories

Props create a total of 100 tricks

Ideal gift for beginners to learn magic

Includes an instructional DVD to aid children and adults
Cons
Instructions might be a little hard to follow
10. Ideal Magic Spectacular Kids Magic Suitcase – Best Organizer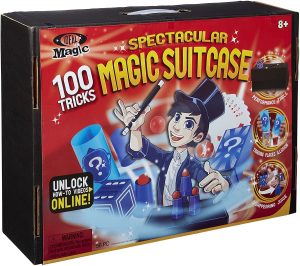 If you're looking for another best magic kit that can cover 100 tricks in this round, the Ideal Magic Spectacular Magic Suitcase is the right choice. Although the tricks are considered easy to learn, this magic kit still serves the purpose of engaging children's minds in the magical world. Kids can perform tricks even when they're on the go, as the suitcase doubles as a performance table.
This magic set is great and suitable for children 8-year-old and above. They can enjoy tons of high-quality magic props where they can perform tricks conveniently. The magic set also includes props similar to its competitors in this round: a magic hat and wand, suitcase, dice, balls, tissues, and card decks. The Ideal Magic Spectacular kit doesn't come with an instructional DVD. Still, it comes with instructions and codes for online videos. These are great ways to help children learn the tricks of the trade of magic.
Pros
Different tricks for kids to learn

Children won't get bored with this kids magic set

Comes with a spectacular magic suitcase that doubles as a performance table
Cons
The suitcase isn't durable, knowing how children perform magic
11. Heyzeibo Magic Kit for Kids – Best Magician Look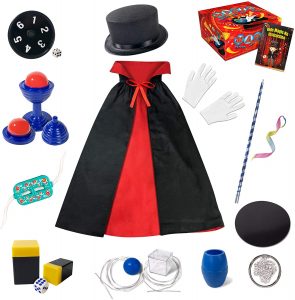 A magic show isn't complete if the magician doesn't have the right outfit while performing tricks. Moreover, Heyzeibok Magic Kit completes your kid's look with its dress-up set. In this magic set, you'll get a double-layered cloak, a top hat, magic wand, ribbons, and gloves—the perfect outfit for any child aged five and above.
It's considered one of the best magic kits for kids, with 26 premium quality props organized in its packing box. Some of the cool tricks your child can learn with this magic set are cutting and recovering rope, disappearing cola, pouring water without leakage, predicting dice numbers, and knotting magics. Did we mention that it involves clairvoyance, too (the best part of this magic kit)? All the instructions come in a clear English manual with easy-to-learn illustrations, so your child can quickly grasp how to perform magic tricks.
Pros
Your child can have a professional magician look

Different tricks can be done with the props involved
Cons
Doesn't come with an instructional DVD
12. Criss Angel Mindfreak Ultimate Magic Kit Black – Best Number of Tricks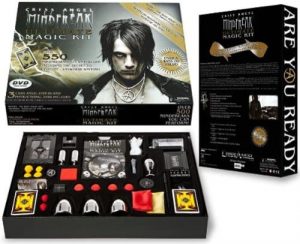 We bet children and adults know Criss Angel as one of the best professional magicians in the world. Why not give your child something they can use to impress friends and families with Angel's magic tricks? Criss Angel Ultimate Magic Kit Black provides a mind-blowing and mind-freak magic set for kids who want to learn different card tricks at hand.
Criss Angel Mindfreak Magic Kit includes props that allow your child to perform more than 550 major tricks, even the classics such as money printer, cups and balls, and card decks. The recommended age is eight years and above; the magic set has an instructional DVD to do learning tricks easy, fun, and entertaining. The fun fact here is that the DVD provides instructions for your child to learn to levitate anywhere–no props involved!
Pros
Introduces your child into the world of magic

Over 550 magic tricks included

Levitation secrets included
13. Marvin's Magic Fifty Greatest Card Tricks – Best for Card Tricks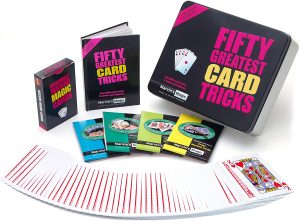 Marvin's Magic Fifty Greatest Card Tricks is the best magic set for kids you can buy to learn different tricks at hand. Instead of focusing on props, this magic set highlights various magic tricks your child can do using a deck of cards. It's more affordable than other magic kits for kids in this round, as it only includes a deck with instructions. But fret not! Your child can learn lots of card tricks, so it's still worth the buck.
This magic set is perfect for developing kids' hand-and-eye coordination. Although it might be a little complicated for beginners, children can watch tutorial videos online (Marvin Magic provides you with code access). You'll also find five secret sets in this item, guaranteeing kids can perform magic well with their friends. Moreover, kids aged eight and above can see magic tricks entertaining and fun.
Pros
Comes with five secret card tricks

Gives your child access to online videos and tutorials

Plenty of tricks with a regular deck of cards
14. Melissa & Doug Magic Hocus-Pocus Collection – Best for Magic Show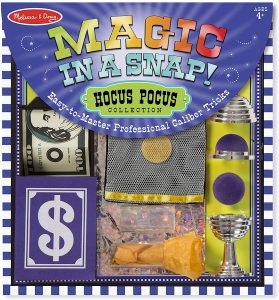 Melissa & Doug Store never fails to manufacture several of the best magic kits for kids in this round. Aside from their Abracadabra edition, you and your child would be impressed with its Hocus-Pocus magic set for kids collection. Created for kids between ages four and eight years old, this kit can make children's afternoon magic show together with friends and family members. Included in this magic set are 12 props and equipment kids can use for showing their fantastic skills in magic.
Inside this magic kit, you'll find a mesh bag, a coin, a case for a "$100" bill, ball and vase tricks, and a scarf. Kids would definitely master the trick of making the scarf and bill appear and disappear from their cases. What's more, Melissa & Doug manufacturer doesn't compromise its props' quality. In fact, all materials are kid-friendly. Instructions are also placed to help your child digest the tricks.
Pros
Ideal for creating a magic show at home

Each magic trick are easy to follow

The kit improves your kid's social interaction and motor skills
Cons
Small components; choking hazards not suitable for toddlers
15. Primebabe Easy Magic Tricks for Children – Best Magic Wand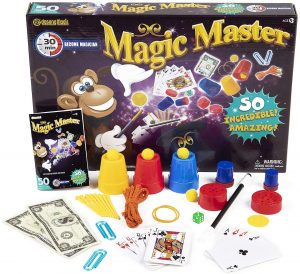 Kids can create their very own magic show with the help of this magic set for kids aged six years and above. Included tricks in this kit are loving clips, the classic cups and balls, ropes, tube and dice, four ace cards, a JQK card, and a spiked coin. Your child also gets a glowing wand to complete the look of your family's little magician.
This magic set serves as a great foundation to train your kid into learning magic tricks. Aside from impressive props, the magic kit comes with instructions that can be easily accessed. We're pretty sure that your child can wow their friends and families with the tricks involved in this set: disappearing ball, cutting ropes, and changing cards. Nonetheless, this magic kit is great even for newbies who want to learn the crafts of magic.
Pros
Plenty of tricks can be made

Instructions are easy to understand

A kit that organizes props
16. Magic Makers 100 Card Tricks – Best Magic Tutorial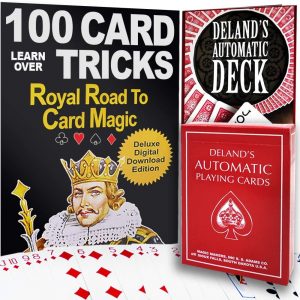 While most children prefer plenty of props in their magic kits, some are inclined to learn card tricks alone. With Magic Makers Royal Road to Card Magic, your aspiring little magician can master over 100 card tricks they can use to astonish their friends and family members. With its reasonable price, you'll get tons of features: a digital access booklet that contains your QR code, four-volume timelines, streaming access, and a Deland's automatic marked deck in red color.
With this magic kit's volume timelines, kids can master card showmanship, explore the art of shuffling, learn the ability to palm a card, force a card in a deck, and many more. At the end of the day, we're sure that your child has the confidence to show their skills in any magic trick that requires a deck of cards.
Pros
One of the best magic sets in this round that focuses on card tricks

Children can master card shuffling, handling, and palming

Has an instructional DVD included in the kit
17. Marvin's Magic Rubik's Amazing Box of Magic Tricks – Best Magic Theme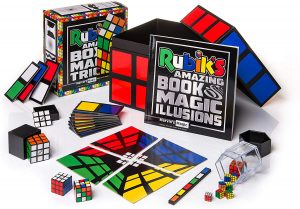 Magic tricks aren't limited to props, coins, and cards. As such, Marvin's Magic Store uses Rubik's theme for kids to learn different magic tricks and illusions to leave friends in awe. Kids aged older than eight can create a total of 40 tricks, featuring colorful gimmicks with Rubik's cube. Your child can involve mind-reading puzzles, jumping cubes, and instant solving techniques with the cube prop. You'll also find a deluxe tin that allows kids to keep them busy for hours with this magic set's range of fantastic Rubik's theme optical illusions.
Pros
Optical illusions make sure kids can trick their friends

Great for introducing kids into the world of magical illusions

Tricks are easy to master
18. The Penn & Teller Fool Everyone Magic Kit – Best for Illusions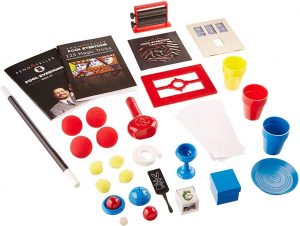 The little magician in your life would find Penn & Teller Fool Everyone Magic Kit easy to master and understand. It delivers props that help your kid deceive everyone with their tricks, just as the item advertises. Inside this kit, you'll get a complete magic set licensed by no other than the famous Penn and Teller. They are recognized for their legendary magic show in the history of Las Vegas.
Whether your kid's into optical illusions, classic magic tricks, or just want to have a fun time, Penn & Teller's magic kit does the job. Besides, kids can master over 200 tricks that they'll surely use to deceive their friends or relatives at home. The recommended age for this kit is eight to fifteen years old.
Pros
The kit is the first officially licensed Penn & Teller set on the market

Over 200 tricks for children to master

Includes complete course in magic and illusion
Cons
Props are mostly for classic tricks
19. Playz Unlimited Magic Tricks Set for Kids – Best for Magical Experiment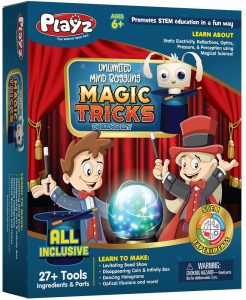 Playz Unlimited makes the magical world more fun for kids with its Magic Tricks Set for kids aged six and above. What makes this magic kit considered in the list is it involves science experiments. At their young age, children can learn about static electricity, reflections, and optics. Other experiments suitable for your child's early science discovery are pressure and perception.
Overall, this magic set is loaded with value, 27 props and tools to be exact. To make sure children learn from this kit, Playz Unlimited included an instructional booklet excellent for guiding kids in the process.
Pros
Involves science in the magical kit

Helps children explore scientific experiments at a young age

Props, tools, and ingredients are fun to explore
Cons
Not durable enough for kids