16 Best Basketball Hoops for Kids (2021 Reviews)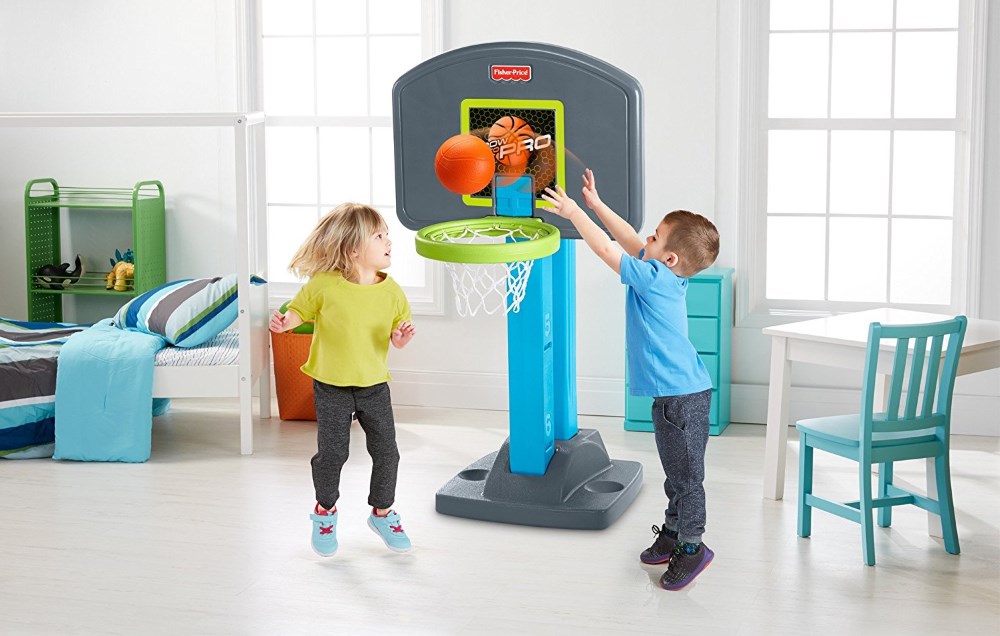 Basketball is undoubtedly a popular sport for youngsters and teens. Besides being fun and entertaining, it works wonders for your kid's physical and mental strength.
Buying your little player a basketball hoop would be a great idea to compliment your child's learning. At the same time, it reduces their time playing on their screens and gadgets all day long.
Whether you want your kid to become the next Michael Jordan or Candace Parker, give them a nice basketball hoop set that they'll surely appreciate.
Below are the top-rated hoops from Amazon you can get for your kid.
1. Little Tikes Easy Score Basketball Set – Best Overall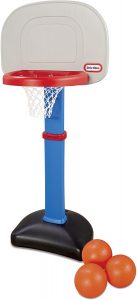 Little Tikes Easy Score kids' basketball hoop set wins this round with a whooping 4.8 rate and 22.5k ratings (as of this writing) from Amazon customers. It features a high-quality junior basket that includes an oversized rim and three small balls perfect for indoor-outdoor use. Although the hoop and stand are made out of plastic, sturdiness and firmness aren't a question.
Moreover, the Little Tikes Easy Score set comes in blue color and has an adjustable height from 2.5 to 4 feet. Furthermore, kids ages 1 to 5 could definitely enjoy this set exclusive from Amazon. There's no other perfect way to encourage kids' active play than this set. Besides, this play helps preschoolers and toddlers work on their balance, coordination, and agility skills.
Pros
The best basketball hoop for kids

Very easy to assemble

Implements height-adjustable junior hoop and big rims
Cons
Some issues with shipping
2. VTech Smart Shots Sports Center – Best for Toddlers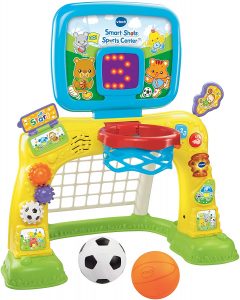 If you're looking for a great set for your little basketball player, VTech Smart Shots Sports Center is the answer. It's practically made with toddlers 1 to 3 years old in mind. It's considered a 2-in-1 kids' basketball center, and it contains a basketball hoop and a mini-soccer nylon net for kids and toddlers to score goals.
It provides much fun and experience for toddlers, as the set comes with an animated LED light scoreboard. Aside from displaying the score, the scoreboard produces sounds, phrases, and animations that motivate your little player more. Specifically, VTech basketball hoops introduce your toddlers to shapes and over 50 songs.
You don't have to fill the base with water since it's stable enough for toddlers to play on. Yet, this basketball hoop operates on three AA batteries, which aren't included in the package.
Pros
Balls perfectly fit for little hands

Very easy to assemble

Comes with a frustration-free packaging
Cons
Needs batteries to operate
3. Little Tikes TotSports Easy Score Basketball Set – Best for Girls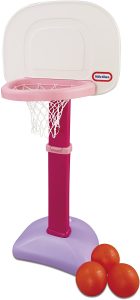 Another Little Tikes-manufactured basketball hoop for kids is the TotSports Easy Score. It comes in pink color perfect for little girls who define shooting isn't just for boys. With the TotSports Easy Score basketball hoop, you'll get a basketball stand that's adjustable enough to fit your kid's height as they grow. You may need to anchor the stand's base with water or sand, ensuring it remains stable while children play basketball.
Additionally, Little Tikes TotSports Easy Score includes an oversized rim that makes it easier for kids to score baskets. It has three softballs included that you can fill with air once flattened. Kids 1 to 5 years old and above would definitely enjoy having this set, as it's water-resistant and can be used for both indoor and outdoor use.
Pros
Customers deem it to be worthy of purchase

Easy to store and assemble

Water-resistant kids' basketball hoop
Cons
Needs to anchor the base with sand or water
4. GoSports Splash Hoop 360 Floating Pool Hoop – Best for Pools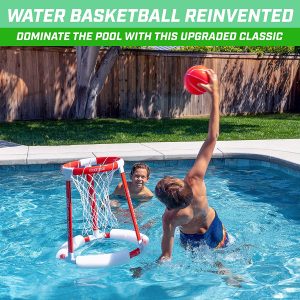 Get away from a boring swimming marathon every time your family goes out for a pool trip. With GoSports 360-splash hoop, kids can rule the pool with the set accessories: a 360-target and two water basketballs. You'll likely appreciate that these balls have an anti-slip grip, so you don't need to chase them out of the water. Plus, the GoSports splash hoop set comes with a handy premium pump with an inflation needle.
While some find the pool hoop expensive, most customers perceive it's worth the buck. Unlike other pool hoops that flatten over hours of use, the GoSports splash hoop contains no blow-up air sections. It's also made with high-quality materials and constructions that last a long time. Kids can have double fun while they swim and play basketball at the same time.
Pros
Comes with a hand pump inflation with a needle

Sturdy basketball hoop for a pool

Doesn't flip over easily
Cons
Knocks over sometimes, which needs to be assembled again
5. Lifetime 90022 Youth Portable Basketball Hoop – Best for Boys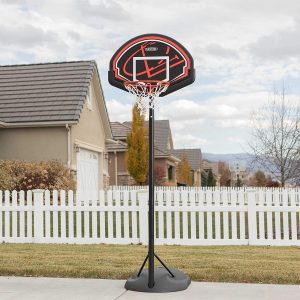 Lifetime Youth portable basketball hoop features the best basketball for boys practicing new acrobatic dunks to impress family members. What you'll love about this item is that it has a telescoping adjustment pole, which makes it easier for kids to modify the hoop's height according to their preference. With such an attribute, the rim height can be adjusted from 5.5 to 7.5 feet in 6-inch increments.
Boys would enjoy dunking moves with this basketball hoop because of its 32-inch impact blackboard. What's more, you can find the stand's stability with its 10-gallon HDPE base, which you can fill with water or sand for added firmness.
Lifetime Youth portable basketball is also a perfect basketball hoop set for indoor and outdoor use, as it's made with all-weather-resistant materials and fade-resistant graphics. Boys can earn extra points with the basketball hoop's high-density polyethylene construction and powder-coated steel.
Pros
Perfect for indoor and outdoor basketball activity for kids

Rust and weather-resistant basketball hoop

The hoop easily fills with sand or water for sturdiness
Cons
Instructions in assembling the parts aren't clear
6. AugToy Toddler Basketball Hoop and Stand – Best Quality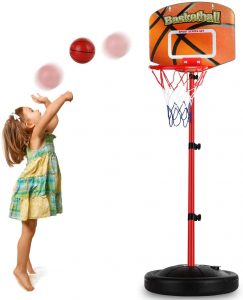 One of the best basketball hoops you can get for your toddlers is the AugToy mini-indoor and outdoor basketball stand. You can adjust the height easily with its screw components that can be heightened from 2.5 to 5.1 feet, which is great for growing kids.
You'll find the rim sturdier and more durable than competitors since it's made with steel rim instead of plastic. Kids would definitely appreciate the basketball board, as it's detachable and can be hanged on a wall. This lets you easily put the board higher than the stand can accommodate.
Like other basketball hoop stands, the base can be filled with water or sand for more stable and secure dunks. Nevertheless, it serves fun activities and games for your family and helps develop your kid's social, hand-eye coordination, and motor skills independently.
Pros
The basketball hoop is detachable

The hoop comes with a replaceable net

Ensures your kids' safety with its BPA and lead-free construction materials
Cons
The base is too small for some
7. SKLZ Mini-Hoop Basketball System – Best Splurge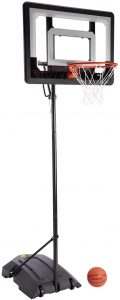 If you're looking for a more professional-looking basketball set for your kids, the SKLZ pro-mini-hoop system is the best choice, but it comes with a price.
What makes this basketball hoop system is its mobility that makes it a great hoop for indoor and outdoor use. Moreover, it features built-in wheels that let you move the basketball stand around your home easily. You can fill the base with sand or water, ensuring it remains standing while kids commence their acrobatic dunks.
With its functional and durable hoop, kids of different age ranges can enjoy a basketball game and even feel like they're professional players. Boys and girls would appreciate the net's all-weather-resistant nylon net that can withstand the environment's harshest elements. The basketball system includes a backboard size 33" x 23" clear polycarbonate shatterproof. Meanwhile, the hoop is made with a spring-action break-away 14.5" rim.
Pros
Ensures mobility and sturdiness with its gallon base's fills with water

Lets kids enjoy friendly basketball games with family members, even in a poolside

Different age ranges can practice their skills with this pro-mini basketball hoop set
Cons
Isn't made with rust-free materials
8. N/C Basketball Hoop and Stand – Best for Outdoor Use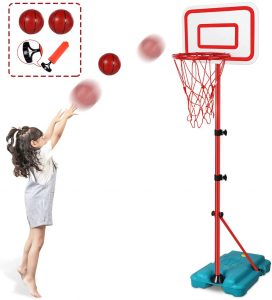 You could never go wrong with the N/C basketball hoop and stand designed for kids ages 3 to 8 years old. Like its competitors, N/C delivers an adjustable height stand that caters to your toddlers as they grow. This adjustable junior hoop kid ranges from 2.9 to 6.2 feet, depending on your little player's preference.
For added stability, N/C recommends parents fill the piston base with either sand or water. Yet, it's not advisable to use water when it's the winter season. You'll also get accessories included with this basketball hoop. They include a backboard, a rim, net, ball, pump, stand, and base.
Meanwhile, assembling the basketball components would just be a piece of cake for any parent. It's a giftable item you can give to kids and toddlers. This basketball hoop not only improves your child's shooting skills but also develops their hand-eye coordination.
Pros
The hoop is made with non-toxic materials

Parts are easy to put together

The included rubber ball is bouncy
Cons
Some issues with shipping
9. ROPODA Mini-Basketball Hoop – Best Hoop at Night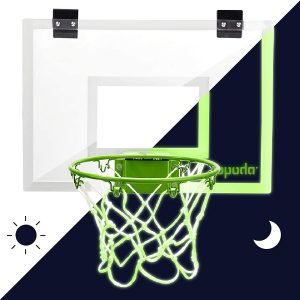 If your kids are into more fun and adventure, then the ROPODA mini-basketball hoop is the best choice. Unlike its competitors that made it to this round, ROPODA features a glow-in-the-dark hoop that makes it unique. Moreover, you'll appreciate that this basketball hoop is backed by a padded backboard to reduce noises whenever kids use this hoop at night.
Aside from the hoop, the set's backboard, rope, rim, and net are made with luminous materials. Kids can enjoy shooting or practicing new dunks even late at night. ROPODA hoop is made with heavy-duty steel that's durable enough for years of use.
ROPODA glow-in-the-dark basketball hoop encompasses an indoor-outdoor design, high-quality steel, and thick, dense foam that cater to your children's playtime day and night.
Pros
The basketball hoop comes with a luminous net, rim, and backboard

Sturdy steel rim perfect for dunks

Easy to assemble
Cons
Needs to "charge" the basketball hoop to sunlight
10. Franklin Sports Mini-Basketball Set – Best Basketball Hoop with Rebounder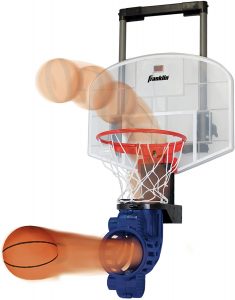 Franklin Sports is a leading manufacturer when it comes to producing great sports toys for kids and toddlers. It features a mini-basketball hoop that's engineered to fit the average door component of your home. The basketball hoop is made with high-quality construction, a heavy-duty steel rim, and a plexiglass backboard to give your little players a more authentic experience.
Further, the Franklin Sports mini-basketball set makes a great home gym for indoor practice since it has an arcade-type rebounder. The rebounder automatically passes and returns the ball to your little player while it rotates in a 180-degree. This way, players would save time chasing the balls inside the room or in the yard.
You can base the hoop easily on the scoreboard that features an electronic scoring and announcing system, having your children feel like a high-flying basketball player. However, the scoreboard operates on four C batteries.
Pros
Lets children practice new acrobatic dunks indoor-outdoor 

Comes with a rebounder and scoring system
Cons
Needs batteries for the scoring system to work
11. Meland Indoor Mini Basketball Hoop Set – Best Backboard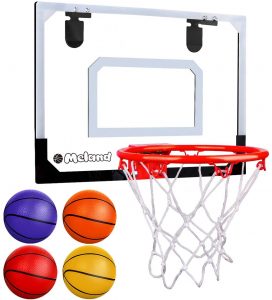 Children nowadays love to lock themselves in their rooms while playing with electronics and gadgets. With the Meland mini-basketball set, you'll ensure your kids stay active even while indoors. Accessories included in this kids' basketball set are four rubber basketballs (different colors), a steel-rim basket, a ball net, a backboard, and an air pump.
Since the basketball hoop is mounted on a wall or to a door, you'll also get complete mounting hardware, such as the hoops, wrench, screws, and screwdriver. Meland features a shatterproof and thick shock-proof sponge backboard that reduces any noise made while dunking. Meland also offers a break-away design catering to your kid's active skills in sports.
Pros
The basketballs included are made with rubber and does not deform easily

Features string steel rim that bounces back into place

Padded backboard for reduced noise
Cons
Some customers find the basketball hoop set pricey
12. Taylor Toy Basketball Hoop Hamper – Best Hoop Hamper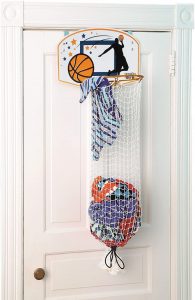 Taylor's toy basketball set makes every mother's wish come true with its basketball hoop that doubles as a hamper. Instead of having an open bottom, the Taylor basketball hoop features a nylon-made hamper net that's 3 feet deep, which can hold a good amount of dirty clothes.
You'll appreciate how Taylor basketball hoop hampers fit on any door and come in gender-neutral colors. The rim and backboard are made with durable materials that make sure your kids can do jump and trick shots anytime.
Taylor basketball hoops save much more space and time than standing basketball hoops that need to be filled with water or sand. Nevertheless, customers who already had this item are delighted with how clean their kids' room was. Plus, you don't need to search for dirty laundry in your child's room, as all the dirty garments can be found in the hoop.
Pros
Made of durable rim and net material

Saves parents a lot of space

Can hold any type of clothing
Cons
Some parents suggest bigger or deeper hamper
13. BestKidBall Arcade Basketball Hoop Game – Best for Arcades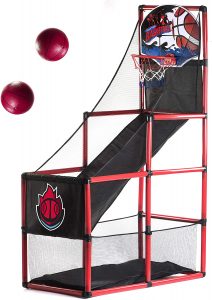 If you have much space in your home, you may want to get a Tundras Sports basketball arcade game. You can install this mini-arcade indoors to stimulate your child's sports skills. Included accessories in this item are a board hoop, basket net, two balls, a pump, two nets, tubes, and connections.
Meanwhile, the toy hoop allows children and toddlers to practice their indoor skills, jump shots, and dunks with the arcade's simple hoop system that returns the balls to the player. You don't need to worry about the arcade's stability since it's made with durable materials for kids' safer experience. Plus, this arcade only takes minutes to assemble.
Aside from an arcade, the BestKidBall hoop game can be used as toy hampers. You can assemble this mini-arcade game in your child's playroom and let them shoot their toys, so they're not scattered.
Pros
Fairly easy to connect tubes and put them together

Made with sturdy and durable construction

No additional tools needed when assembling the product
Cons
Takes too much room space
14. Ceiling Sports Indoor Mini-Basketball Hoop – Best Safety Features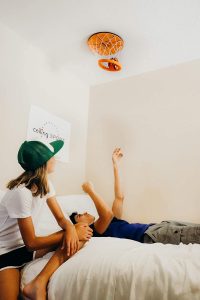 Some kids love to toss balls anytime, anywhere, making the Ceiling Sport indoor mini-basketball hoop a great buy. Unlike your ordinary wall-mounted or standing basketball hoops, this hoop is installed in a flat ceiling. This product allows children to have a "quick mental recess" from their online school.
Not only this item provides your kids a mental break, but it also develops your kid's hand-eye coordination. Ceiling Sport mini-basketball hoop encourages children to build their focus and attention while shooting the ball in the hoop as it's played differently from ordinary hoops.
Ceiling Sport guarantees their mini-basketball hoop is safe for children 4 years and above. It passed the ASTM F963-17 standards for U.S. toy safety.
Pros
Very easy to install on a ceiling

Great fidget object during distance learning

Doesn't wear out easily
Cons
Not recommended for ceilings with grumpy textures
15. TREYWELL Indoor Mini-Basketball Set – Best for Indoor Use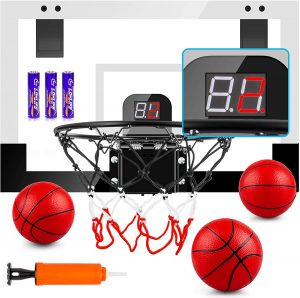 Basketball hoops would be great if they have a scoring system. With TREYWELL indoor mini-basketball set, your kids would definitely feel like they're professional basketball players. You'll get three quality rubber basketball balls, an audio-electronic scoreboard, and a padded backboard.
Each goal is calculated with TREYWELL's electronic system, which produces heartening cheers to make the game more authentic. The padded backboard comes with 6 pieces of thick sponges that prevent the backboard from scratching your door's finish and reduces the dunk noises at the same time.
Kids' safety is prioritized with TREYWELL indoor mini-basketball hoop, as the set is designed with non-toxic and durable ABS plastic materials. This quality ensures your child gets a break-resistant play while actively practicing dunks and shots.
Pros
The set comes with an audio electronic scoreboard system

Reduce noise and prevents scratches on the door

Great for spending quality time with family
Cons
The scoreboard system needs batteries to work
16. Arkmiido 5-in-1 Basketball Hoop – Best Activities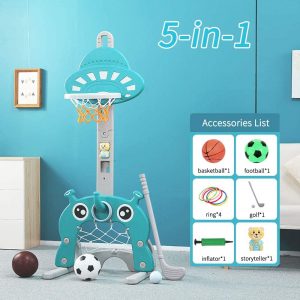 Another set of basketball and a soccer net is the Arkmiido basketball hoop, featuring five activity centers. Toddlers can play the following games with this single item: ring toss, basketball game, golf game, soccer goal, and storyteller.
What makes this hoop set unique is that it caters to your children as they grow. It's advertised as a suitable gift for kids ages 1 to 12 years, as the hoop can be adjusted to five height settings from 45 to 60 inches. Assembling the Arkmiido hoop set is easy; no additional tools are needed to connect the pieces. To make the stand firmer, you can fill the base with sand or water.
This 5-in-1 game set unleashes your kid's interest in sports while letting them enjoy endless fun and experience with the activities included. The different games they can play promotes physical fitness, flexibility, and memory at a young age.
Pros
Features multi-functional sports combination in one set

Ease to assemble and disassemble

Increases your child's interests in sports
Cons
The included instruction was poorly designed