Best Electric Dirt Bike for Kids Who Love Adventures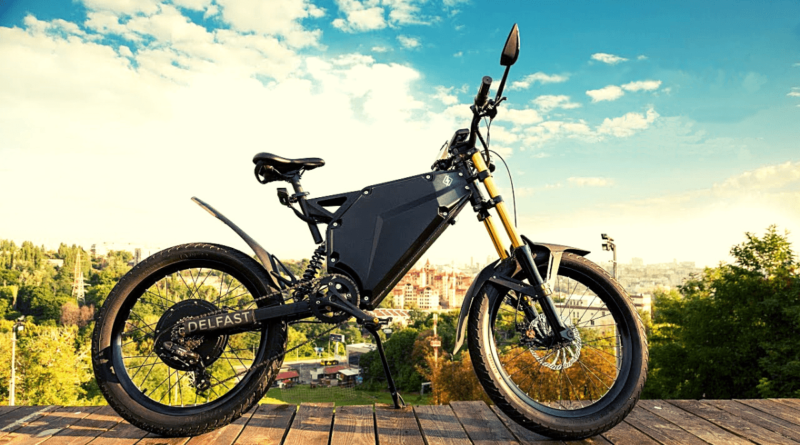 It's undeniable that dirt biking is an exciting adventure for kids. Aside from the fact that it develops a great bonding between you and your child, it enhances your kid's growth and coordination skills. There are plenty of electronic dirt bikes for kids in the market. But how well do they really give fun and safe games for your kid?
You'll find tons of recommendations on the Internet. For the ease of choosing excellent dirt bikes, we've rounded up the best electric dirt bikes in this article.
Look no further with our top seven electric dirt bikes for kids who love great adventures.
1. Razor MX350 Dirt Electric Motocross Off-Road Bike – Best Overall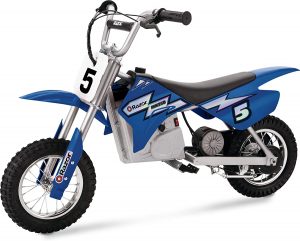 Specs:
Age range: Recommended for kids 14+ (suitable for kids 5+)
Motor power: 250W
Razor leads as the top-notch manufacturer of not only electric scooters but also motocross bikes.  In fact, its MX350 dirt bike received numerous awards and praise in the Sports Illustrated for Kids. The Razor MX350 is a miniature version of a battery-powered motocross, known as the best electric dirt bike for kids. It guarantees the same excellent performance that you can get from off-road bikes.
Your kids would definitely love this scaled-down version of an electric-powered dirt bike, especially when they're into off-road riding and racing adventures. Thanks to the MX350 electric dirt bike's top speed and chain-driven machine, your kids would go onto their fantasies of going onto bumpy terrains and trails. This is also the go-to dirt bike for kids 13 years old and above or those who love to try new adventures independently. Yet, five-year-old kids and above can enjoy riding this, or those who weigh 140 pounds maximum.
Aside from its pace, the Razor MX350 dirt bike comes with two rechargeable 12V lead-acid batteries, giving you a total of 24V batt power. Kids will enjoy non-stop dirt biking for 30 minutes. Besides, you could never worry about your kids riding the bike on bumpy roads; it has large knobby tires that definitely pays off the price.
The Razor MX350 motocross bike only gives uncompromised quality and safety for your kid's first off-road top experience. Riders can control their bike's rate with the twist-grip throttle that doesn't make any sound like large dirt bikes. Plus, the electric bike's handlebars give the rider a comfortable experience—a vital feature of this bike.
Control is everything with the MX350 electric dirt bike. Its sturdy steel construction, hand-operated rear brake, and chain-driven motor give the best performance your kids can enjoy.
Pros
Comes with adjustable handlebars

Contains a dual suspension

One of the affordable brands in the market

Has a 90-day warranty
Cons
Only comes in two colors: blue and pink
2. Razor SX500 Dirt Rocket McGrath Motocross – Best Quality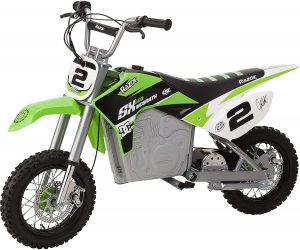 Specs:
Age range: Recommended for riders 13+ (suitable for kids 8+)
Motor power: 500W, variable
Battery: 36V, lead-acid
Speed: 15 mph
Run time: Up to 40 mins
Brake: Front and rear disc brakes
Rider's weight capacity: 175 lbs
Seat height: 24.5 in
Kids who are fans of racing adventures definitely have this electric dirt bike on their wish list. As a manufacturer, Razor never failed to give the best dirt riding experience for electric motocross lovers, especially for children. Razor SX500 is inspired by Jeremy McGrath, known as the "King of Supercross," mirroring his excellent performance on the track.
What riders love the most about the SX500 is its cool design that can withstand any condition. The electric dirt bike is made with pneumatic knobby tires, and the body's made with sturdy steel construction. This specific model includes excellent geometric frames, eventually making it a feature for serious riders. You'll be impressed with this electric dirt bike's speed that goes up to 15 miles per hour, ensuring your kid's getting an outstanding experience.
What's more, SX500 delivers premium performance for up to 40 minutes, which is significantly higher than its competitors. Before using, charge the storage cell for up to 12 hours. Regardless of your kid's stunts, the electric dirt bike's high-torque motor, disc brakes, and top speed guarantees durability and strength.
Lastly, this electric dirt bike contains front and rear treads, so you'll never have to worry about riders riding off-road. It's ideally recommended for kids 13 years old and above. Still, the safety features made it possible for younger kids to mount this bike as well. Rocky terrains or bumpy structures would just be a piece of cake for riders with Razor SX500 electric dirt bike.
Pros
Excellent geometric frames
Considered as a sought-after electric dirt bike in the marke
Top and solid experience on terrains
Manually-operated disc brakes
Cons
The electric dirt bike has a small chain
3. Burromax TT250 Electric Dirt Bike – Best Value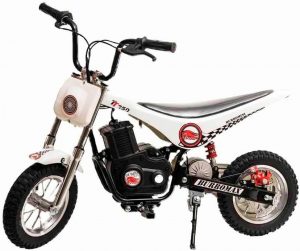 Specs:
Age range: 12+
Motor power: 250W
Battery: 24V SLA
Speed: 7 and 14 mph (dual speeds)
Run time: Not specified
Brake: Rear disc brake
Rider's weight capacity: 250 lbs
Seat height: 21 in
Burromax TT250 made it to the list of the best electric dirt bikes for its outstanding features. This electric bike is referred to as the miniature version of the Flat Tracker hybrid electric motocross. Kids that get annoyed with noisy motors would love Burromax the most. Aside from this bike's high-quality features, it comes with a dual-speed limit, wherein young riders can choose their pace, either 7 or 14 mph.
The best part of Burromax TT250 is its deep cycle battery, which is enough to last a great riding experience for riders at heart. Meanwhile, this bike's motor power is 250W, excellent for starters to obtain a smooth acceleration and take-off. Similar to other candidates for the best electric bikes, this model is improved with heavy-duty constructions. Further, enhanced weight support is achieved, which can handle at most 250 pounds.
If your kid's afraid of motocross bikes, fret not. Burromax TT250 keeps beginners in mind with its training wheels. This accessory ensures a safe stunting experience for your juniors, even without guiding them on the track. They're not challenging to install and are filled with real air. Additionally, the tires are made with aluminum alloy wheels, expanding at a 12.5 diameter in inches.
Burromax TT250 is recommended for kids of any age. Nonetheless, you need to install the accessories and tools on your own. Customers are also responsible for maintaining its good quality and safety features for a wholesome experience.
Pros
Contains training wheels as an optional accessory
Has a 90-day warranty
Excellent and quiet operation
Comes with first-rate tires
4. Razor SX350 Rocket Electric Motocross Bike – Best for Beginners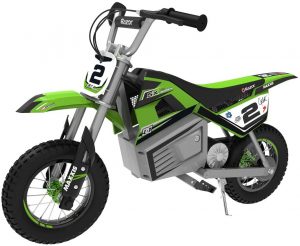 Specs:
Age range: 13+
Motor power: 250W
Battery: 24V, lead-acid
Speed: 14 mph
Run time: Up to 30 mins
Brake: Hand-operated rear
Rider's weight capacity: 140 lbs
Seat height: 22.5 in
Razor continues to bring the best electric dirt bikes in the market with its development of new electric motocross referred to as the SX350. It's literally the same version of the MX350; both are great entry electric bikes for kids 13 years old and above. What makes this version different from the latter is its improved graphics and fairing design, inspired by well known Supercross champion Jeremy McGrath.
The SX350 contains no suspension, but this lack shouldn't stop you from getting its offered features. It's compensated with excellent off-road tires that complement every single ride made. It comes with a full 30-minute riding experience for any kid, added with a retractable kickstand to keep the body's frame when not in use.
Another thing is that the SX350 encompasses a single speed throttle, acting like an on/off switch. Though it would take a little time for your kid to get used to this motocross bike, it promises outstanding features that would want them to ride this for a day. The electric dirt bike also comes with a top speed of 14 miles per hour.
If your kid is into decals and graphics, get them this SX350 model. It's designed explicitly after McGrath's bike's design elements of clean and sleek finish. It doesn't come with dual suspension but has a twist-grip throttle and hand-operated brake for safe stunts and adventures.
Pros
Implements a double-crown fork
Soft and good grips
Contains riser-style and adjustable handlebars
5. Best Ride on Cars Honda CRF250R Dirt Bike 6V Red – Best for Toddlers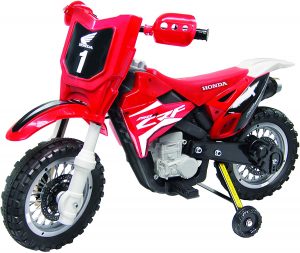 Specs:
Age range: 2 to 5 years old
Motor power: Not specified
Battery: 6V
Speed: 1-3 mph
Run time: Up to 20 mins
Brake: Not specified
Rider's weight capacity: 55 lbs
Seat height: 21.5 in
If you're looking for another electric dirt bike for kids younger than the mentioned competitors, get them this Honda CRF250 model. It's specifically made for young riders who weigh less than 55 pounds. Although it's a smaller version of an electric bike, the Best Ride on Cars model guarantees the perfect performance your kids would want in a bike.
What makes Best Ride on Cars Honda CRF250R dirt bike model on this list is its training wheels. The manufacturer equips the electric dirt bike with an accessory that encourages and helps parents promote their kids' gross motor and coordination skills. Kids would love its music features that make their journey more fun and realistic. They can jam to their music while riding the electric dirt bike safely.
Although it has a small wheel size, Honda delivers excellent maneuverability and control for the riders. The electric dirt bike is complemented with a storage area, so little kids can store their snacks or drinks while enjoying the ride. Hence, it offers maximum power and pace for up to 3 mph.
The last impressive feature of the Honda CRF250R is its adjustable handlebar. It's easier to adjust the handlebar that fits your growing kid's hands than other electric dirt bikes in the market.
Pros
Contains three gears and training wheels

Best electric dirt bike for kids aged 5 and younger

Officially lists Honda as its manufacturer

Has a 30-day warranty

The rider can enjoy music and sounds
Cons
Has no clutch

Only one color available (red)
6. MotoTec 24v Electric Dirt Bike Motocross Scooter – Best Run Time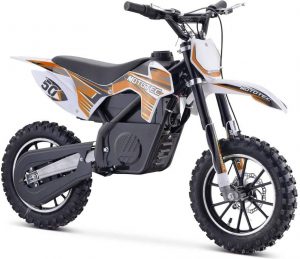 Specs:
Age range: Recommended for riders 13+ (suitable for kids 8 to 12 as well)
Motor power: 500W
Battery: 24V
Speed: 5, 10, and 16 mph (3 rates)
Run time: Up to 45 mins
Brake: Front and rear disc
Rider's weight capacity: 150 lbs
Seat height: 23 in
MotoTec 24V motocross secured its sixth spot on the best electric dirt bikes for kids in this round. Its features are great, making this electric dirt bike an all-rounder, regardless of the surface. What makes this dirt bike one of the best is its top speed, wherein a rider can select how fast the electric bike should run. You don't need to worry about the rate the dirt bike accelerates because it comes with a great suspension for your kid's bottoms.
Kids and riders love the MotoTec electric dirt bike because of its quality build and concrete structure. This model produces less noise, as the knobby pneumatic tires don't squeal when operated. Your kids would also enjoy the adjustable suspension this electric dirt bike has, which is suitable for smooth to wild terrains.
Any rider would enjoy mounting and riding this bike for up to 45 minutes, an incredibly good time for stunts and tricks. In addition, kids can control their bikes even more, given its structure.
Worrying about your kid's safety? MotoTec electric dirt bike has two front shocks and one rear shock. These accessories ensure your kid's getting minimal vibration while riding onto uneven terrains. The motocross bike also comes with consistent breaks that can adapt to wet and dry surfaces.
Pros
Contains consistent disc brakes
Has comfortable seat
Encompasses adjustable handlebars for a more convenient riding position

A bit heavier compared to competitors

More pace options for kids
Cons
A bit heavier compared to competitors
7. Pulse Performance EM-1000 Electric Motorcycle – Best for Racers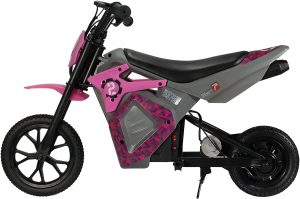 Specs:
Age range: 8 to 11 years old kids
Motor power: 100W
Battery: 24V, lead-acid
Speed: 10 mph
Run time: Up to 40 mins
Brake: Caliper handbrake
Rider's weight capacity: 120 lbs
Seat height: 15 in
The Pulse Performance EM-1000 motorcycle is another best electric dirt bike for kids in the market. It's a good entry-level dirt bike for your kid who wants to get the same experience that racers and bikers enjoy. Besides, customer reviews deem this model a responsive dirt bike with gentle acceleration and operation.
You'll be impressed with this electric dirt bike because of its reliable features and components. As such, it incorporates a low seat height to accommodate children for a more comfortable mounting experience. The electric dirt bike runs on 24V lead-acid, ensuring a continuous fun adventure for kids.
In terms of sturdiness, Pulse Performance EM-1000 delivers. The manufacturer uses heavy-duty steel construction that details the electric bike. Furthermore, you don't need to worry about any damage to the handlebars, as they're entirely made with steel frames.
Considering it's an electric dirt bike good for training novice kids, it doesn't come with suspension. To compensate for the lacking, the manufacturer ensures air-filled pneumatic knobby tires. This feature makes it more convenient for a rider to release shocks absorbed from the ground.
Pros
Batteries are removable

Comes with a top chain-driven storage cell

Puncture-proof knobby tires

Has easy-control throttle
What to Look for in Electric Dirt Bikes
Aside from the brand and price, here are the qualities you need to consider when looking for a potential dirt bike in the market:
Safety. Parents know that safety should come first. Evaluate the dirt bike's safety gears, especially if the brakes are consistent. Assess if the motocross' responsiveness comes in handy as well.
Materials and specs. Ensure that your chosen electric dirt bike is made with premium and solid quality steel frames. In this accord, the dirt bike should withstand any terrain or surface. As much as possible, check the assembly and products. You don't want to expose your kid to harsh or toxic chemicals.
Speed and battery hours. By adding these points, you'll get the worth of your money for an electric bike. Not all dirt bikes are made at the same rate, so carefully consider the torque, cycle, and duration when buying one.