Best Hockey Gifts for Kids To Feel NHL Vibes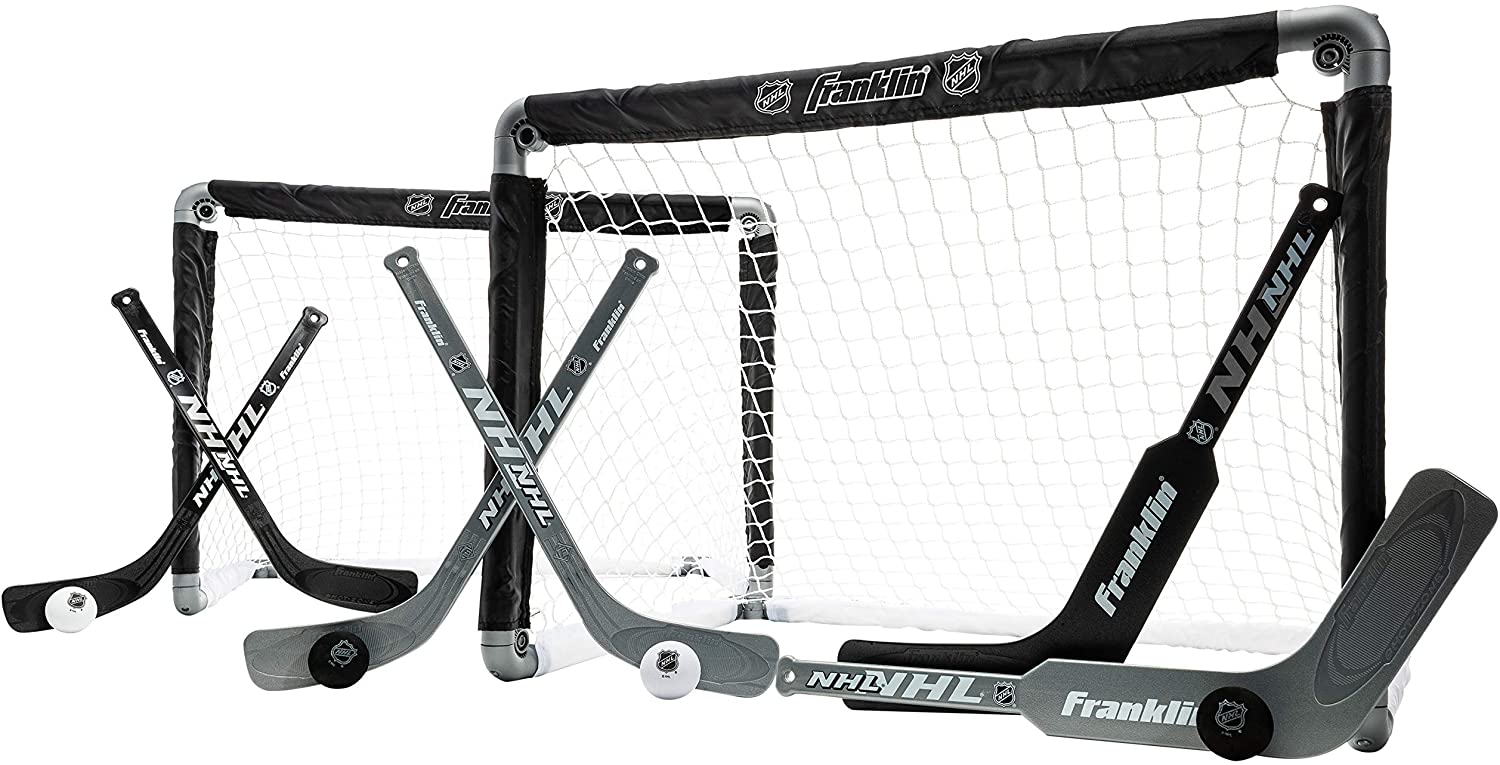 Hockey isn't the most popular sport in the world. But hey, it has the most passionate fans you could ever think of, even your kids! If your kid's into playing ice hockey, it's time to get the best hockey gift idea you should give to them.
You don't need to spend a lot when buying hockey gifts for kids. In this article, we've listed the best deals we found in the market. We're sure that any hockey fan in your life will love these gift ideas. And we know for a fact that members who love playing hockey get other relatives involved, too! Here are the best hockey gifts for kids to get that NHL feels at your home's comfort:
1. Franklin Sports Mini Hockey Goal Set of Two – Best Overall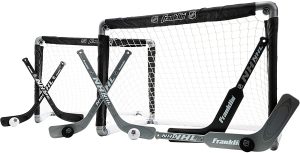 Kids who love to play hockey definitely have this great gift item on their list. It's considered as an all-in-one knee-hockey goal set, as it includes everything your child needs to develop skills in ice hockey. They'll get to enjoy outdoor street hockey more with the equipment included in this item. The Franklin Sports Mini Hockey comes with the following: two folding goals, four mini-hockey sticks,  two goalie sticks, and four soft foam mini hockey balls. All of these materials can be carried in an easy-store bag, making it easier for kids to carry them anytime and anywhere.
In terms of durability, Franklin Sports delivers. The mini hockey goal's net has a 28-inch wide and 20-inch height dimension. The goal net is made with durable 900D polyester that can withstand any weather. Meanwhile, the mini balls in this gift set are cushioned with EVA foam, plus the hockey sticks include right and left components. 
The goal set gift is recommended for kids age 3 and above, a perfect setting for building their hand-eye coordination and reaction speed. This is a go-to solution for parents without a large backyard since kids can play the sport indoors.
Pros
Contains a complete knee-hockey set

Requires only minimal effort to setup

Lightweight and portable
2. Franklin Sports Youth Street Hockey Sticks – Best for Street Hockey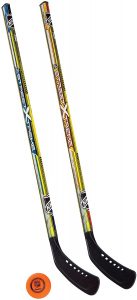 Franklin Sports never failed to give the best NHL-inspired hockey set especially created for kids. What's more, the hockey stick set is a great gift for kids who are newbies in street hockey. Although it's less expensive than competitors, it offers advantages similar to excellent hockey sticks in the market. 
If you're looking for a suitable stick for hockey starters, you shouldn't miss this hockey stick on your list of gifts. Additionally, Franklin Sports' hockey sticks are licensed as NHL's hockey partner. It incorporates the NHL logo on sticks and balls, so your kids would definitely embody being in an NHL team while playing street hockey.
This item comes with two 37-inch junior hockey sticks and one 65-millimeter low-density street hockey ball. Thus, the short length of the sticks makes it easier for children ages 5 and above to enjoy at-home ice hockey games. It has a straight blade design suitable for right-handed and left-handed kids. Each stick features a vinyl graphic wrap, flexible abs blade, and a myriad of colors for street hockey games. Besides, it encompasses top-quality design and material. The fun comes instantly with a street hockey ball in a competitive 2-on-2 or 4-on-4 game. 
Pros
Perfect for right-handed and left-handed kids

Quality stick and graphics

Cheaper than competitors
Cons
Might be short for tall hockey players
3. Linwood Stickhandling Training Aid – Best Quality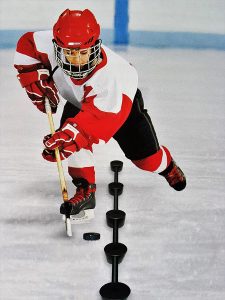 You shouldn't settle for less when it comes to hockey gifts. Buy your boys and girls a hockey puck handling trainer that improves their skills for stickhandling, especially made for control and speed. Linwood stickhandling training aid is one of the best hockey gifts for kids in the market today, providing a great gear towards accurate puck handling abilities. Besides, it's a fun way to help a hockey fan to accommodate their stickhandling positions and drills.
Hockey players, even on and off-ice coaches, can use this gift as a training aid to enhance hockey stickhandling and puck control. It contains fully-adjustable sections you can reangle to any shape variety. Any hockey player would love to play the sport more, thanks to this training aid's 72-inch long and lightweight material.
Kids hockey nuts can practice their hand-eye coordination and handling techniques with the Linwood training aid. Likewise, pucks can be inserted for additional weight, perfect for patterned drills and stunts. You can add this hockey training equipment to your kids' hockey collection. We assure you that at the end of the day, a hockey fan in your life would have an improved on and off-ice stickhandling game. This gift idea can help your kid become one of the mostly-recognized hockey players in no time!
Pros
Great for improving the hand abilities of a team

Well crafted with its lightweight features

Work well in any rink surface
Cons
Created with plastic

Doesn't include pucks
4. MasterPieces NHL Matching Card Game – Best Memory Game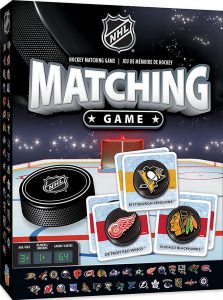 If a hockey player fan in your life hasn't played this card game before, then you'll definitely be missing out on one of the best hockey gift ideas. MasterPieces matching card game features your favorite NHL hockey national teams. It puts a hockey-twist card you can play with other family members. We're not biased, but those NHL fans would definitely win this game.
You can get this hockey gift and play them with kids of ages. Every hockey player would love this game, as it features their favorite teams and names known in the sport. NHL fans would buy this set as it highlights NHL-themed symbols while testing their knowledge about hockey sport.
This isn't your ordinary gift set that tears easily. You'll love its solid cardboard construction that makes the cards thick. Hockey fans who already had this item recommend it to any fans. It's a great learning material to teach kids about all the teams in the whole NHL.
Take note that these matching cards aren't your typical gift idea. MasterPieces designed pieces with NHL fans in mind, giving you the best sports selection you can add to your kids' toys collection of NHL games.
Pros
Suited for 3-year-old kids and above

Perfect for kids who need to test their knowledge about hockey

A fun game for the whole family
5. Automatic Hockey Passer – Best for Solo Practice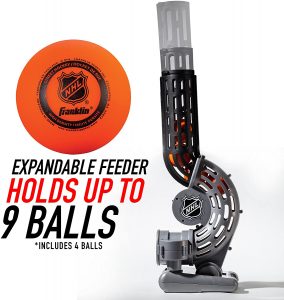 There's only one way to get that ball into the goal: finding the perfect slap shot. Since it's expensive for some parents to find a personal trainer for their kid, giving this automatic hockey passer would be a clever gift. It's manufactured by Franklin Sports; it means that this passer is NHL-approved for younger hockey players. It's one of the best hockey gifts you can give to a hockey-player wannabe in your life.
Basically, it's one of the gift ideas that's worth the price. It's a battery-operated ball feeder that loads and passes the ball to your kid to practice slap shots. Even when your kid's playing by themselves, they can use this automatic hockey passer to practice their ball and stick-handling skills with no sweat.
The best part of this automatic passer gift is that it accommodates all standard-sized balls. The feeder can hold up to nine balls at once and has four regulation-size street hockey balls. What's more, hockey fans consider this a great gift; the LED light lets the kids know when the "pass" is on the way—a good function to prepare themselves for a top-performance slap.
Pros
A gift that's NHL-approved

Replicates the feel of a real pass from a team player

Sharpens the hockey abilities of your kid

A great alternative for hockey toys
Cons
Meant for street hockey balls
6. PlayMobil NHL Hockey Arena – Best for Indoor Hockey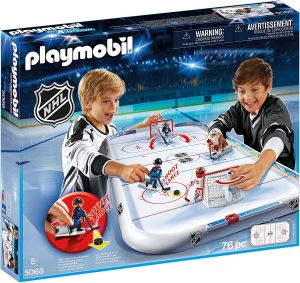 PlayMobil NHL hockey arena is another perfect gift you can find online. Create a fun-filled experience for a hockey player in your life that they can play regularly. Your kids can take control of either Eastern or Western all-star players with this game. Materials included in this top-set game are two ice rink pieces, four NHL players, and a hockey arena. Further, hockey fans would love to play a fun game in the comfort of their home.
It's an excellent hockey gift for any hockey player at heart, even recommended for kids 4 years old and above. Each NHL player in this set is equipped with a movable arm and hockey stick, adding a realistic game experience for your kids. They only need to pull the lever at the back of the figure to fire pucks down the rink while working towards the goal.
You don't want to miss a good shot with this item. Your kids can customize the rink with whatever NHL team logo they love with incorporated decals. In terms of sturdiness, the PlayMobil NHL arena is created with solid materials that are built to last. The ice rink is easy to assemble; just connect the wall doors and goals and your kids are good to go. Ready to get some friendly game with this great item.
Pros
One of the affordable hockey toys you'll find online

Players get to have a fun experience with this game

Great for team players

Players can make the ice rink more enjoyable by using their favorite NHL team
Cons
Not suitable for toddlers as it contains small components
7. Franklin Sports Family Tabletop Game – Best for Real-Time Action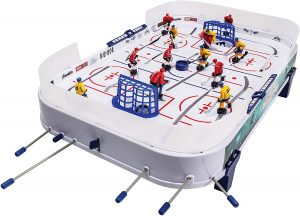 Looking for a hockey tabletop isn't easy. To ease the process, we recommend the Franklin Sports Family Tabletop. It's definitely one of the hockey gifts collectibles for kids. It's a gear with flawless competition; the plexiglass style adds a new and authentic enclosure on the board's scoring system. It resembles genuine ice hockey features, as it combines hockey actions with large-moving figures. 
Kids 6 years old and above, family members, and hockey players at heart would love this compact rod hockey. It consists of 12 hockey players plus two mini hockey pucks. The figures are controllable using the toy's preinstalled hockey player rods. It completes any indoor game room, regardless of whether your family's having a party or not. 
You can now make time for your kids, thanks to the tabletop's lightweight material that you can use anytime and anywhere. This tabletop game mixes an arcade-style table without any hassle and brings hours of fun experience not only to your kids but to the whole family. Create a team of two in an instant and set the goal perfectly. 
Pros
Perfect use for indoor games or holidays

Gives families new idea to have an entertainment while at the comfort of homes

Isn't a time-consuming hockey tabletop
Cons
Made with plastic construction
8. PlayMobil Take Along Arena Playset – Best Playset for Kids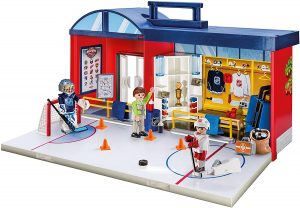 PlayMobil Take Along Arena playset made it to our round of the best hockey gifts for kids. It's crafted with hockey kids in mind who are slightly younger than the competitors' target age in this list. Your kid will love this arena play kit that includes the following: an ice rink, pucks, and goals set. What's more, it's an on-the-go hockey game because of its foldable panels. It's another excellent hockey gift option for boys and girls aged five to ten-year-olds.
The essence of this arena playset is that it brings the hockey game to life with its controls. Any kid can maneuver the figures to block the opponent's shot. It also has customizable jersey numbers of your kid's favorite NHL team, logos, and marks. This playset also has three figures, an arena structure, a first-aid kit, hockey sticks, pucks, and dumbbells. Multiple accessories are incorporated that make this kit a more appealing and entertaining hockey gift for your kid.
Pros
Perfect gift for many hockey kids

Doesn't need too much time to assemble

Includes lots of accessories
Cons
Has small components not suitable for younger kids