20 Best Play Dough Sets for Kids for a Creative Playtime (2021)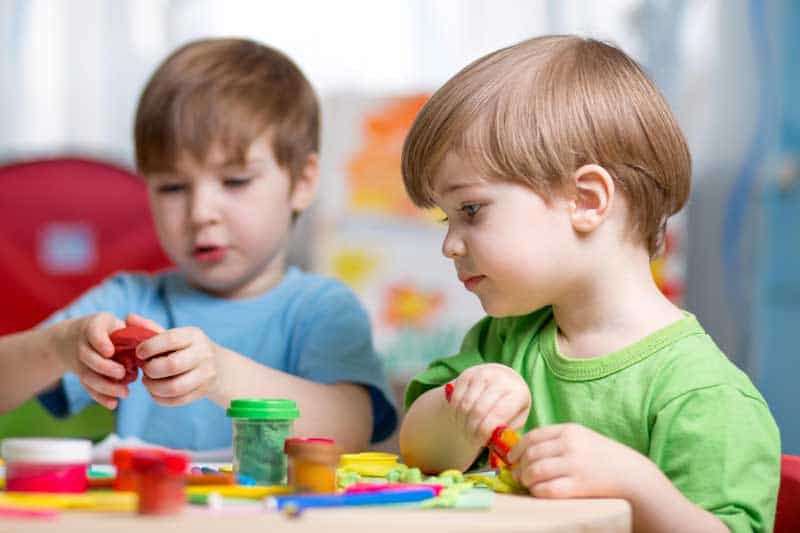 Play doughs are undoubtedly a fun way to enhance your child's sensory and cognitive skills. Besides keeping kids busy for hours, play doughs are great for teaching kids basic shapes and patterns. It's also good for encouraging their spatial reasoning, as the design is implemented when playing these doughs.
Among the best manufacturers of play dough sets is the Hasbro Play-Doh, which undeniably made it to most of the list. Below you'll find the best Play-Doh sets, along with its competitors, that will surely unlock your child's interest in arts and crafts.
1. Play-Doh Modeling Compound (10, 24, or 36 colors) – Best Overall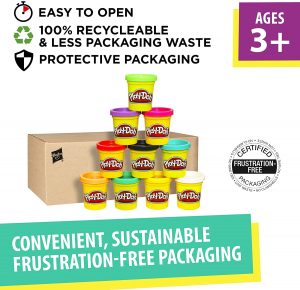 Hasbro never failed to provide great giftable items to kids, especially with its cool Play-Doh brand that wins the best play dough set in this round. Play-Doh modeling compound set comes with multi-color, assorted compound colors in classic 10, 24, or 36 sets, depending on your child's preference. Moreover, the 10-pack Play-Doh set includes 2-ounce cans (3-ounce cans for 24- and 23-set Play-Doh) ready to speed up and engage your child's creativity and function.
Children can have a wonderful time squeezing, mixing, and shaping this open-ended Play-Doh set. You'll appreciate that the Play-Doh set is non-toxic and hypoallergenic, which is great for kids to unleash their imaginative skills. Regardless of the item selected, you'll get easy-open, recyclable package cans and lids.
If you find the play dough dries out quickly, you can restore its softness by adding drops of water. With the number of colors this Play-Doh set comes with, we're pretty sure kids can make hours of fun with it! However, this isn't the best Play-Doh set for children who have allergic reactions to wheat gluten and can be harmful to pets if ingested.
Pros
Non-irritating Play-Doh set

Includes multi-color cans of Play-Doh

Great way to unleash a child's fine motor skills and creativity
Cons
Not for kids who have allergies to wheat gluten
2. Play-Doh Ultimate Creativity Tub Toy – Best Quality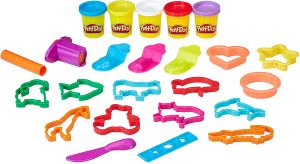 There's no other way to complete your child's fun and imaginative play than its Creativity Tub Toy. It's one of the best Play-Doh Sets that features Play-Doh fun tub cans in five bright, assorted modeling compound colors. The colors included are specifically chosen that stimulates your child's vision appropriately.
In addition to attractive Play-Doh colors, the set includes tools, molders, cutters, and shapers. Kids would find these tools simple to use and a great way to encourage hand-and-eye coordination skills at a young age. You'll get over 20 pieces of intuitive stampers and cutters in this tub, ready to create a fun and engaging play even if your kids play by themselves. These tools come in good quality, letting your child shape and mold the play dough into something extraordinary.
All in all, everything your child needs to create open-ended play sessions is contained in this Play-Doh fun tub! Kids can cut and mold their way to their next masterpiece. In case they get tired, throw everything back into the tub, and do it all over again the next day.
Pros
Great for imaginative play

Contains molders, stampers, and tools

Creates open-ended play session for kids

Little ones find the colors bright and attractive
Cons
The cans of Play-Doh are small
3. Play-Doh Kitchen Creations Drizzy Ice Cream Playset – Best for Ice Cream Lovers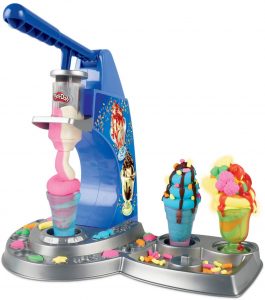 Nothing could ever scream it's already summertime with ice cream! Play-Doh emphasizes its wonderful Kitchen Creations collection with its Drizzy Ice Cream Playset. This Play-Doh ice cream set creates a fun play for children who are into ice cream and frozen treats (who doesn't?). The set comes with 2 drizzle bottles (syrup-like ingredient), 6 non-toxic cans of Play-Doh colors, 5 cones, and 2 spoons.
What makes this a great item on the list of the best Play-Doh sets is its ice cream maker. Kids only need to put their play dough into the see-through container and press it. They'll instantly see their "ice cream" coming out of the container as it goes down the cone. Besides, little kids can pretend Play-Doh ice cream with the set's chocolate and strawberry toppings, making their creations more realistic!
Although this drizzy machine seems sophisticated for youngsters, Play-Doh provides instructional cards on how to use it.
Pros
Includes creation cards that are intuitive and handy

Little kids can make their own treats

Replicates realistic ice creams with the Play-Doh set's drizzle syrups

The see-through container is easy to clean
Cons
Drizzles are messy to use
4. Play-Doh Sweet Shoppe Cookie Creations – Best for Little Bakers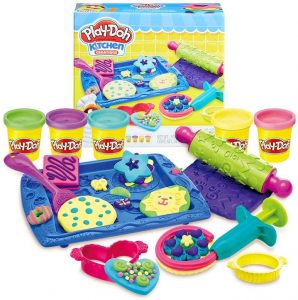 Another Play-Doh Kitchen Creations set is the Sweet Shoppe Cookie Creations that mimics a real-life cookie bakery for young children. Help your child distinguish different shapes with the set's cookie cutters, letting them create a quick circle, square, heart, and star pattern. What's more, kids get a textured rollable pin for added fun surface cookie patterns.
Play-Doh modeling compounds used in this set have been tested for quality and durability. Children would get 5 non-toxic cans of Play-Doh Molding compound, perfect for fueling your child's interest in basic cookie patterns. In addition to play dough and cutters, you'll get a cake server, a cupcake liner, 4 extruder tips, and a cookie stand. Sweet Shoppe Cookie Creations even comes with a baking tin and spatula for added baker experience!
Pros
Includes cans of Play-Doh modeling compound in different colors

Great for your little one

Lets your child create a make-believe bakery

A delicious way to make pretend cookies
Cons
Sticky doughs that may be hard to play with
5. Play-Doh Kitchen Creations Magical Oven – Best Splurge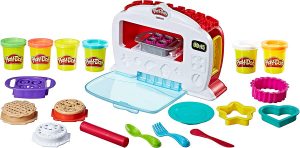 Another Play-Doh Kitchen Creations set in this round is the Magical oven. It features a light-operated oven that "bakes" the Play-Doh in an instant. The white light turns to red and makes a 'ding!' sound once the doughs are baked. Your little one only needs imagination, as this Magical Oven playset provides an open-ended fun play for bakers at heart. With this set, you'll never have to worry about kids getting burned. And the best part? There are no dishes to wash!
But the fun doesn't end here. The Magical Oven set adds accessories to supplement your child's fine motor skills. Your child would also find 5 baking trays, 3 cutters, a roller pin, and an oven. Besides, a plate is added to stimulate your child's creativity in presenting their own-baked cookies. The Play-Doh comes in six cans in assorted colors. A digital timer is also added to make this oven playset more realistic.
Keep in mind that the oven needs three AAA batteries for the oven to light up and sound.
Pros
The oven features a digital timer, a bell, and a light

Cutters add different shapes to cookies

Children can use the set to create open-ended Play-Doh play time

Loaded with fun baking accessories
6. Sago Brothers Air Dry Clay – Best for Little Sculptures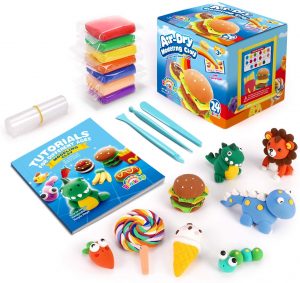 If your little one has been sculpting and molding doughs recently, you can upgrade their skills with Sago Brothers Air Dry Clay. Compared to other Play-Doh sets on the list, this item comes with a clay component that dries quickly, which can be used as an added decoration to your home.
Moreover, this play set comes with 24 bright colors, 24 sealed bags, and 3 clay tools for dicing, shaping, and cutting. You'll definitely appreciate that Sago Brothers ensured that their clays are wheat-, nut-, and peanut-free. Further, these clays are safe and non-toxic; it also meets the ASTM F963-17 standards.
We love this play kit because the colors don't fade, and it's faster to dry (about 5 to 24 hours). Kids can mix and fix color gradients with ease. It also has a 72-page tutorial book that accents shapes, foods, and animals to supplement your kid's wild creativity. They'll also learn the basic process of clay paint, less hassle!
Pros
Ensures non-toxic air dry clay materials for children

The set includes tools for ease of cutting, dicing, and shaping

Easy to set up, even for beginners

Very soft and smooth clay
Cons
Molded clays become brittle for a long time
7. Play-Doh Little Pony Make 'n Style Ponies – Best for Pony Fanatic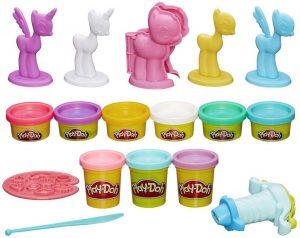 We're pretty sure kids nowadays are into ponies, thanks to the animated series My Little Ponies that made it famous. Play-Doh fills your child's creativity and imaginative skills with their Little Pony Make 'n Style play set. It accents 9 Play-Doh colors and 4 molders to create your very own ponies: Earth, Pegasus, Unicorns, and Princesses.
With an array of bright colors included in this set, kids can customize their ponies and make them look fabulous. The toy set consists of a pony book-mold, 2-piece extruders, and a palette for added patterns. Not to mention magical horns, wings, and tails.
Pros
Comes with 9 cans of Play-Doh compound

Children can make their personalized little ponies

Contains additional tools and accessory for decoration

Fun and imaginative play experience for children
Cons
youngsters may find this complicated to use
8. Play-Doh B5520 Doctor Drill 'n Fill Set – Best for Aspiring Dentists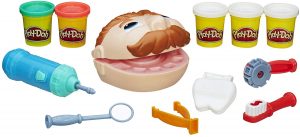 Play-Doh really loves to provide unique tools kids can use to create an imaginative play experience. Further, Play-Doh Doctor Drill 'n Fill set is your go-to item to teach your child how oral hygiene works. This idea makes a great learning play set to teach your children about teeth and gums.
Children can create their own "drill" by molding a tooth on a man's big mouth. With the rolling pin included in the set, youngsters can mimic realistic braces out of the Play-Doh components. Additional accessories in the Doctor Drill 'n Fill kit are a mirror, tweezers, toothbrush, toothpaste, and a tooth mold. It also has an electric drill ready to remove unwanted cavities on the man's teeth. It even makes an authentic drilling sound, but keep in mind that batteries are needed to make it work.
Nevertheless, Doctor Drill 'n Fill includes 5 cans of Play-Doh and dentistry tools to kickstart your little one's journey on oral hygiene. However, the "drilling" sound might cause problems for kids with bad experiences in a dental clinic.
Pros
The dental tools help your child learn the importance of hygiene

Make learning fun and imaginative

Set includes vibrant colors in five cans

The drilling tool mimics the sound of the actual machine
Cons
Needs batteries to operate the drilling tool
9. Play-Doh Stamp 'n Top Pizza Oven Toy – Best for Pizza Lovers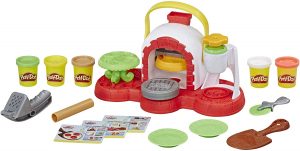 Another Play-Doh Kitchen Creations on the list is the Stamp 'n Top Pizza Oven Toy. What makes this Play-Doh cool is that no batteries are required for the oven to work. It's easy to set up and even mimics a real-life pizza crust with its stamp accessory. Your child can create a pizza party at any moment, as this Play-Doh Stamp 'n Top Pizza Oven Toy set comes with loads of tools.
Once their pizzas are done, children can customize them to their preference. The set includes pretend pepperonis, tomato sauce, chili veggies, and many more! Other cool accessories in this Play-Doh Kitchen Creations are a pizza pan, handle, and a cutter. Of course, Play-Doh wouldn't miss out on their famous modeling compound in this set, which comes in 5 cans of Play-Doh.
You'll also find the cheese crank a good tool for shredding lots of cheese for starving customers. You see, these play dough tools offer your child limitless opportunities with their creativity and imaginative skills. It's undeniably one of the best Play-Doh sets in this round if your kid is into baking and stuff.
Pros
Unique and fantastic Play-Doh set

Fun-packed accessories included in the set

Mimics realistic pizza dough crust and toppings

Keeps your little one busy for hours
Cons
A sophisticated tool for young ones
10. Play-Doh Buzz 'n Cut Shop Toy – Best for Future Barbers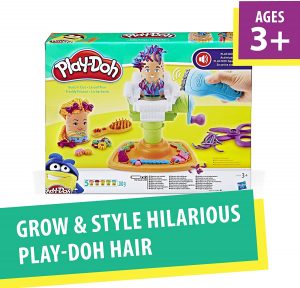 Play-Doh manufacturer never seems to run out of ideas when it comes to cool giftable items for kids. Children who love doing hair would definitely appreciate Play-Doh Buzz 'n Cut Shop Toy the most. It makes their Play-Doh play time worthwhile, as the set contains two silly figurines that can grow hair and beard! Children only need to sit their "customers" in the chair and turn the crank to "grow" hilarious hair in no time!
In addition to five Play-Doh cans in different colors, this Play-Doh set contains the necessary tools to help your child pretend they're like a real barber or beautician. You'll get a comb, a razor, and scissors. To make it more realistic, an electric buzzer is added. Yet, it requires two AAA batteries to get the sound effects.
There's no need to get that perfect hair with the help of this set. Children would take charge and shape their creative minds with Play-Doh modeling compounds. These "customers" wouldn't get mad after all!
Pros
The Play-Doh set is easy to clean and use

Children can make fun of their "customers"

Play-Doh toys and tools added for more fun and experience
Cons
Requires batteries for the electric buzzer to produce sound effects
11. Play-Doh Basic Fun Factory Shape Making Machine – Best Dough Machine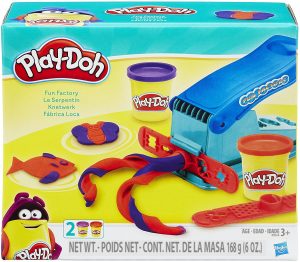 Another top-rated and best Play-Doh set in this round is the Play-Doh Fun Factory Shape Making Machine. It unleashes your child's interest without breaking the bank. Your little child can make silly and unique shapes instantly. They only need to load the machine with their favorite modeling clay, select a shape setting, and press the machine's lever. Strings of fun are indeed waiting at the end!
Play-Doh Fun Factory Shape Making Machine encompasses ten interchangeable shapes, 2 cans of Play-Doh dough, and 2 attachable shape-making rails.
Pros
Doesn't require batteries, unlike other Play-Doh sets in this round

Re-assembling the machine is easy

Keeps children off from screen for hours
12. Play-Doh Kitchen Creations Noodle Makin' Mania – Best for Pasta Lovers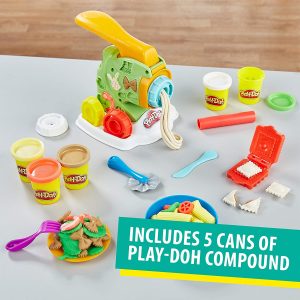 Play-Doh Kitchen Creations comprises anything you're looking for in a Play-Doh Set. With its Noodle Makin' Mania, your child can make tasty noodle and pasta dishes in no time. It's another pump-and-press style Play-Doh set but encompasses more cool features than those mentioned in this round.
This set comes with Play-Doh pasta dishes, including four noodle shapes, book-molds, rolling pins, and rolling cutters. All of these molds let your little one create make-believe lasagna, ramen, ravioli, macaroni, and many more! To create delicious dishes, 5 cans of Play-Doh modeling compound are included in the Play-Doh set. Children can use these play dough to make toppings, together with lettuce and shrimp.
The Noodle Makin' Mania is probably one of the best Play-Doh toys that's easy to use and operate. Your little one is sure to be kept busy for hours instead of staring at a digital screen.
Pros
Loaded with accessories, such as noodle discs, molds, and toppings

Accents right shades of colors

Can enhance your child's presentation skills at a young age
Cons
Probably difficult to clean because of nooks
13. Essenson Animal Modeling Clay Kit – Best for Crafty Kids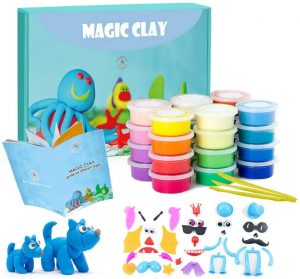 Need a timeout for make-believe foods on the list? Essenson Modeling Clay Kit features air dry clay compounds ready to be shaped into animals or pets. What you'll love about this set is its bright and attractive air dry clay in 24 colors, 3 small tools, and a whopping 34 animal accessories for shaping and decorating the clays. In case your little child got tired of playing with this set, they can use additional 24 containers to keep and secure unused clay. It also has a project booklet to supplement your child's imaginative skills while playing.
Compared to air dry clay components, the Essenson clay kit highlights ultra-soft modeling clay in the set, making the dough easier to shape. For added fun, let the clay air dry completely and use watercolor paint or nail polish to add details to the decoration.
Pros
Soft enough for your child's little hands

Can make lots of figures and decorations

Includes 24 air dry clays in one set
Cons
Dries more than what you expected
14. Play-Doh Pinkfong Baby Shark Set – Best for Sea Addicts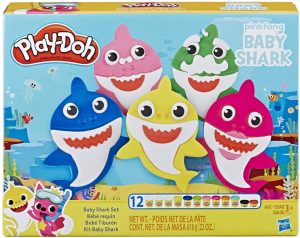 The Internet's catchiest song (well, for youngsters ) just became a Play-Doh set! We all know for a fact that kids nowadays already heard Pinkfong's Baby Shark, so why not let your youngsters create their very own version of the shark family? Included in this Play-Doh set are 12 cans of Play-Doh clays and 21 tools for decorating the shark family.
Little children can make their stories by adding sea life with the help of stampers and cutters. You'll also get a fish book-mold, a roller with 6 attachments, 3 coral plug-ins, and a plastic knife. Nevertheless, these clays conform to non-toxic standards, specifically the ASTM D-4236. Go on, and let your child be the architect of their swim-free imagination!
Pros
Conforms to the standards of non-toxic compounds

Easy to use Play-Doh set
15. Pandapia Play Dough Tools – Best Dough Tools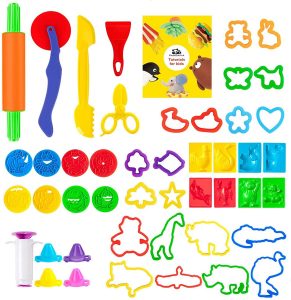 If your child's into decorating cookies and pieces, get these Pandapia play dough tools that would surely delight them. This play dough set contains 47 pieces of dough tools, including and not limited to cookie cutters, pressers, a rolling pin, and molders. You'll also love that the dough shapes come in assorted animal shapes read to teach and entertain your child in no time.
The dough in the set is made out of non-toxic materials, recommended for 3 ages and above because it contains small pieces. Nevertheless, moms who already had this set applaud Pandapia for many options for a great price. Most of the parts work well and hold up against your child's delicate skin.
Nevertheless, exploring animal names through these cutters would inspire their educational, hand-eye coordination, and communication skills at home. Watch as they roll their way towards learning!
Pros
Durable pieces for your little one

Lots of accessories in the dough set

Ignites your child's inner creativity skills

There are several things you can do with this play dough set
Cons
Some pieces are small, which isn't safe for toddlers
16. Play-Doh Kitchen Creations Ice Cream Party Play Food Set – Best Accessories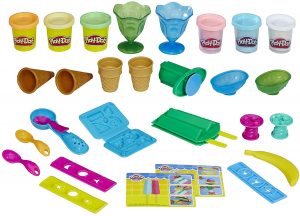 Youngsters can now create their own ice cream party, thanks to Play-Doh Kitchen Creations Ice Cream Party Food set. It's one of their best Play-Doh kits that's inspired with frozen treats in mind, perfect for children 3 years and above. Moreover, kids get 22 Play-Doh tools, six cans of Play-Doh modeling compound, pretend sprinkles, and cones to create their frosty treats.
Play-Doh Kitchen Creations Ice Cream Party Food set will surely provide a great party for kids with its crazy banana splits, which youngsters can make with a banana stamper. The kit includes scoops, spoons, and a rail tool to male wacky whipped cream and other toppings for a more real frosty treat.
Besides the cones and dishes, you'll also get imaginary ice pops, which comes in mold and double stick. At the end of the day, we're sure your kids get more creative with arts and crafts instantly.
Pros
Lets children create pretend toppings, banana, and frozen treats

Includes a nice touch with its confetti ice cream

Sprinkle colors are an excellent addition to this kit
Cons
Modeling compound isn't enough
17. Play-Doh Play 'n Store Set – Best Set with Organizer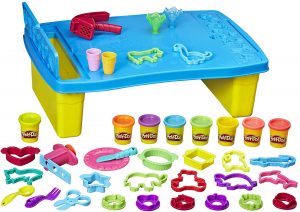 Keep the fun and messy Play-Doh off your tabletop with this set. The great thing about this Play-Doh Play 'n Store kit is that it comes with an activity table that serves as a compartment when your child's done playing. Aside from its spacious room, the item contains over 25 Play-Doh tools and 8 cans of modeling clay. These can be used for cutting, creating, and making fun shapes with the play dough (almost anything they could imagine!).
This handy table can serve as your child's next all-in-one creativity center. They can create fun shapes and mold dough. Once they're done, they can store their used crafts on the table's compartment and do the fun experience all over again the next day. The table is around 21 inches wide and 6.5 inches tall, which is enough to unlock your child's artistic talents.
Pros
Places a "wow" factor on the storage table

Keeps children busy for hours

The handy table is easy to assemble, even for your little one

Keeps every Play-Doh accessories organized
18. Jhong Play Dough Dinosaur World – Best for Dino Lovers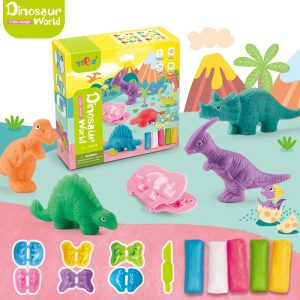 Regardless of the generation we're in, it seems that dinosaurs never go out of fashion. Jhong manufacturer makes it easier for dino-loving kids to create their dino pets personally with its Dinosaur World Play Dough Set.
This play dough set comes with six dino molders, which provides an effective way for kids to distinguish the types of dinosaurs. Meanwhile, the set contains five clays that come in bright colors. A plastic knife has been added to help youngsters pull, push, twist, and press the dino-shaped clays quickly.
Your child's safety is guaranteed with Jhong Play Dough Dinosaur World kit. It ensures all accessories don't have sharp edges and burrs, so kids can play safely. Yet, the manufacturer recommends storing the play dough in a freezer bag after use.
Pros
Perfect educational toy for youngsters who are into the dino world

The shape molders work with other play dough

Dino molds are made perfectly
19. Pony Toy Kitchen Creations Breakfast Burger and Pasta Play Set – Best for Creative Cooks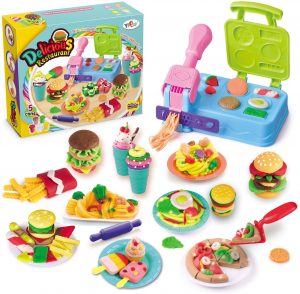 Pony Toy Kitchen Creations Play set isn't your ordinary breakfast maker. Kids would definitely have fun making burgers with the grill included in the set. What you'll love about this set is that it incorporates a press-and-pump style to create authentic pasta, cheese, grilled burgers, hotdogs, and a bun.
Aside from burgers, youngsters can make their own ice cream by selecting the correct pattern before pumping the machine down. A rolling pin is added to create decorative styles on the cheese surface and ice cream containers. With lots of patterns involved in the machine, kids can surely develop their finger flexibility and motor skills. They'll love the five bright colors packed in the play dough cans as well.
Customers particularly love the style of the machine, which comes in handy for youngsters while playing. Lastly, creating burgers and pasta would be just a piece of cake for the youngsters.
Pros
Helps develop your child's manual and imagination skills

Cultivates children's appreciation of colors, shapes, and patterns

Provides non-toxic play dough
Cons
Small component for some parents
20. Dear Deer Play Dough Cinema Snack Bar Play Set – Best Snack Dough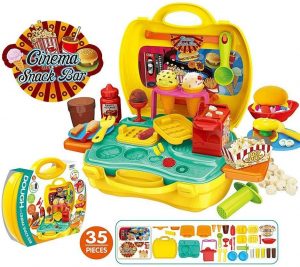 Finally, Dear Deer's play dough Set made it to the list with its pretend snack bar playset. You'll definitely appreciate how every tool and accessory in this set comes organized with the smart dough case. What's more, the delicate storage can carry your kid's stuff anywhere they go.
Inside, you'll get 35-piece assorted accessories, which are perfect for making beautiful snacks you'll find in a cinema bar. The play dough in this set is made of soft, pliable materials. It's also wheat-base, making it easy to shape, and can be used as many times as you'd like. Such foods you can do with the Dear Deer Play Dough Cinema Bar set are popcorn, pasta, ice cream, chips, and even hot dogs!
With all of the accessories included in the set, we're pretty sure it's one of the best ways to encourage your child's creative mind.
Pros
Comes with a handy, delicate dough case

Provides kids with a luxurious set to create pretend snacks

Thoughtful design, which means no sharp edges

Portable suitcase for youngsters
Cons
Some parents find the item small