Best Sewing Machines for Kids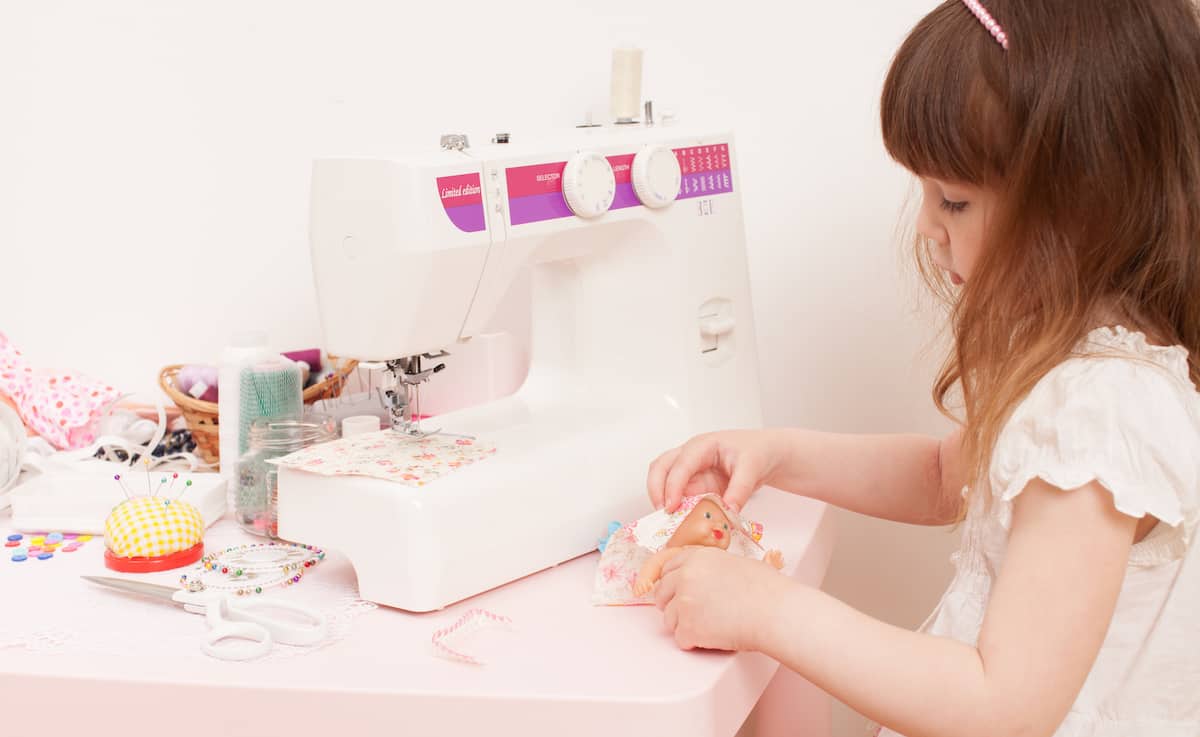 Perhaps one of the essentials kids need to learn is sewing. In addition to it being fun and imaginative, it unleashes your kid's creativity and imagination.
Sewing skills can actually help kids express themselves through decorative styles and patterns. We're sure that giving them the best sewing machine would make them more self-reliant and independent.
You'll find lots of sewing machines online. But how well do these machines cater to your child's needs? Are they durable enough to last long?
In this guide, we sought the best sewing machines for kids. You'll never have to worry about these tool's versatility, durability, and functionality; we gathered them for you.
1. Brother XM2701 Sewing Machine – Best Overall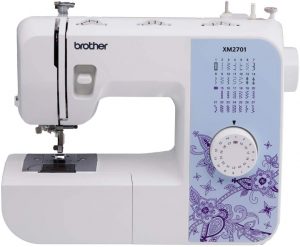 One of the mostly-recognized and reputable brands in the field of sewing machines is the Brother. In that case, Brother XM2701 undeniably made it to this round of best sewing machines for kids. What you'll love about this sewing machine is its built-in stitches: 59 stitch applications and 27 built-in stitches. Your kid doesn't have to worry about learning all stitching information to start.
Aside from the Brother XM2701 versatile free arm functions, kids can learn to sew without sweating. This sewing machine for kids creates stitches, including blind hem, zigzag, stretch stitches, and an auto-size buttonhole. Another reason kids would love about Brother XM2701 is its automatic needle threader and drop-in bobbin system. These features advance your kid's progress from basic to intricate stitch patterns.
Brother designed this sewing machine using advanced technology that's easy to use, highlighting six detachable feet and a one-step buttonhole stitch for various functions. Thus, this sewing machine is the best entry choice not only for kids but also for teenagers and adults.
Brother XM2701 kids sewing machine also comes with an instructional DVD, helping kids learn at their pace. Plus, the Brother manufacturer implements a 25-year limited warranty.
Pros
Made by a reputable manufacturer, best overall in this round

Warranty, pre-set functions, foot pedal, and alternatives included

Perfect for introducing kids and teens to sewing and stitching

Has a straightforward DVD for visual learners
Cons
Kids might be overwhelmed with the number of stitches involved
2. SINGER Start 1304 Built-In Stitches – Best Quality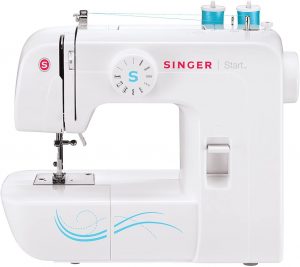 If your kids are into sewing projects, buy them this SINGER Start 1304 packed with several stitching applications and methods. Like the Brother XM2701 mentioned in this round, the SINGER sewing machine for kids is lightweight and portable, so kids can carry them anytime, anywhere. You'll also appreciate that this free arm sewing machine features an automatic bobbin winder that stops once filled, letting your kids enjoy hemming without actually keeping their eyes on the bobbin.
What makes this sewing machine great for kids is that it includes a tray where included accessories are placed. You'll find several useful sewing kit accessories when purchasing SINGER Start 1304 on Amazon: all-purpose and a zipper foot, buttonhole foot, darning plate, needle pack, bobbins, spool fin, and so on!
Since some kids aren't used to colorful finishes, SINGER Start 1304 is designed with a neutral color combined with blue accents. You'll observe that this model is sturdy and durable to use, thanks to its heavy-duty frame construction and three presser feet. These features benefit your kids in understanding how the sewing machine works.
The best part of this item is that it offers a 25-year product warranty. Although it doesn't include an instructional video, the SINGER manufacturer prints a diagram on the machine's right side to help kids get started, especially with needle threading.
Pros
Includes six built-in stitches and a 4-step buttonhole stitch

Implements a basic stitch selection dial

Provides pre-set function width and length selections

Has automatic bobbin winding system
Cons
Expensive compared to other sewing machines for children
3. SINGER Tradition 2277 Sewing Machine – Best Number of Stitch Applications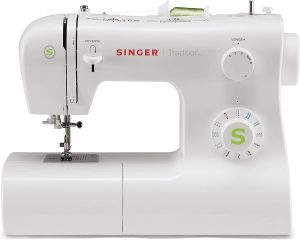 Another SINGER-manufactured sewing machine in this list is the Tradition 2277. It caters to different fabric types and helps kids boost their sewing skills at a young age. Moreover, it features a whopping 97 stitch applications! The designs are printed on the stitch selection dial; youngsters only need to turn the dial and choose the pattern they want to complete.
Aside from the built-in stitches applications, the SINGER Tradition 2277 features an automatic needle threader. Children don't have to worry about threading their needles before they start sewing. What's more, youngsters can create consistent buttonholes in a style that meets their needs. Added to this is the sewing tool's adjustable stitch width and length, which is perfect for stitching techniques, like applique, basting, and so on.
With the SINGER Tradition 2277, you'll get several kits as well. In fact, this sewing tool includes three presser feet and a free arm. This tool is durable, as it's made with a heavy-duty metal frame that can withstand any conditions. Like other sewing machines SINGER has, it offers a 25-year warranty for this tool.
Pros
Easy to use kids sewing machine

Features massive built-in stitches

Best sewing machine for creating decorative patterns and styles

Features an automatic needle threader
Cons
Not for kids five-year-old and below
4. Sew Mighty: The Original Portable Sewing Machine – Best Kid-Friendly Machine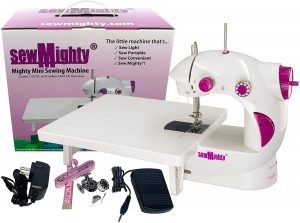 Another best sewing machine for kids is the Mighty Mini Sewing Machine manufactured by Sew Mighty. It's advertised as lightweight, portable, and convenient, which are customer-proven on Amazon. Moreover, Sew Mighty sewing machine comes in two options: one with a sewing kit and the other without. Regardless, you'll get a kid-friendly sewing machine that teaches newbies with basic home sewing projects with ease.
The Sew Might sewing machine offers a feature-packed stitching machine for kids aged six-year-old and above. What's more, the kit includes an extender table where clothes can be placed, a few bobbins, a needle threader, and a foot pedal. The machine is operated on a standard 110V AC or with four AA batteries (not included). Note that these control systems cannot be used simultaneously.
Sew Mighty asserts that its sewing machines aren't considered toys. Yet, it implements kid-friendly and safety features ideal for introducing children to the world of stitching.
Nevertheless, Sew Mighty sewing machine is the perfect choice for repairing minor clothing issues instead of throwing them out. You'll also love great accessories included in the kit: built-in thread cutter, needle threader, bobbin spindle and rewinder, and 2-speed control motor.
Pros
Advertises safety features for little sewists

Ideal for repairing clothes

Extremely easy to use

Kids can learn and start sewing small projects
5. Donyer Power Electric Mini-Sewing Machine – Best Speed Control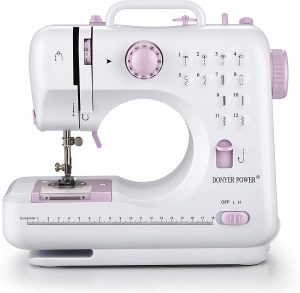 In case you're on a tight budget, Donyer Power electric mini-sewing machine got you covered. Even though it's inexpensive, Donyer doesn't fall short on features and accessories that unlock your kids' sewing skills. In fact, Donyer Power electric mini-sewing tool is one of those kids' sewing machines that's feature-rich, thanks to its adjustable and dual-speed control.
Moreover, this machine is lightweight and easy to use, as advertised by Donyer. By just turning the machine's stitch selection dial, your kid can choose from a wide range of stitch decorations, up to twelve styles. Other features you'll get are a built-in needle threader, changeable stitch length, free arm, and an on-board compartment for storing these accessories when not in use.
Also, sewists can create more craft projects with the Donyer Power electric mini-sewing machine. Its pre-set applications give you high-quality stitches, helping children the best they can be. In this feature, little sewists would save time setting the stitch length and width. Plus, threading needles with this sewing tool would just be a piece of cake for newbies.
Donor Power implements a one-year limited warranty on its sewing machine. It's also crucial for parents to supervise their children before sewing and stitching.
Pros
Lightweight machine

Lower price compared to other sewing machines

Involves pre-set stitch length and width

Helps unleash your kids' sewing skills even at home
Cons
The tool doesn't cater to tough and thick fabrics, like denim
6. NEX Portable Sewing Machine Double Speeds – Best Customer Support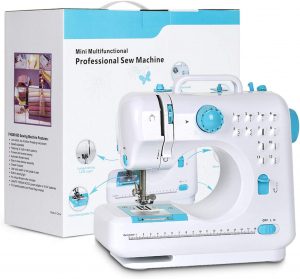 If you love the mentioned sewing machines for kids above, you'll also be impressed with the NEX portable sewing machine. Basically, it provides an instruction guide, tutorial videos, and free technical support designed to equip kids with learnings on stitching and hemming crafts. Several reasons would make you buy this sewing machine kit for your kid. First, the sewing machine can reverse, so there's no need for the sewer to change the cloth's direction.
Additionally, the NEX sewing machine comes with a LED-light bulb that works as a supplement to room lights. Kids can find a compartment where they can easily place their measuring tape and tension adjuster. Plus, the sewing machine kit has a thread cutter and needle that allows children and teens to sew sleeves with its all-purpose presser foot replacement holder.
Little sewists can start sewing through two processes: using a DC 6V 1200mA power or four AA batteries. It has a foot pedal, letting children do their sewing methods with both hands while controlling their foot speed. Nonetheless, Amazon customers praise the NEX sewing machine because it's compact and straightforward to use.
Pros
Includes a free technical customer system

Features reverse sewing design and LED-illumination design

Comes in blue and pink color themes

Portable size, perfect for regular sewing
Cons
Little sewists need their parent's supervision before starting to sew
7. Brother Sewing Machine XM1010 – Best Mechanical Machine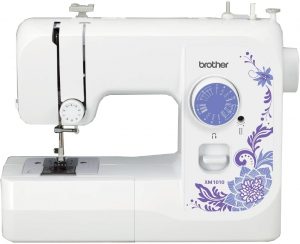 Another Brother-manufactured sewing machine in this list is its XM1010, featuring a mechanical, dial-selection stitching machine for kids. It's one of the best sewing machines that promise a full-sized sewing tool but is more lightweight, portable, and versatile. With its 10 pre-stitch functions and a jam-resistant drop-in bobbin, kids can work wonders.
Little sewists can easily make decorative stitch styles and patterns with the help of the Brother XM1010's automatic needle threader. The built-in free arm lets children sew cuffs and sleeves with more precision and accuracy, unlike other sewing machines that don't feature one. Regardless, buying the Brother XM1010 gets you tons of sewing kits and accessories: four sewing feet, three needles, four bobbins, and a manual and instructional DVD.
Brother manufacturer guarantees all customers a generous 25-year warranty. Aside from this, it gives an "At Your Side Support" system where you can contact their technical support through different platforms: online, live chat, or phone. In case you need help with the machine, Brother customer supports are just a call away.
Pros
Includes a built-in free arm that helps kids stitch easily

Improves children's sewing skills

Provides an array of patterns: zigzag, blind hem, and four-step buttonholer

Comes with four sewing feet
Cons
Isn't the best sewing tool for thick fabrics
8. Janome Sewing Machine – Best Designs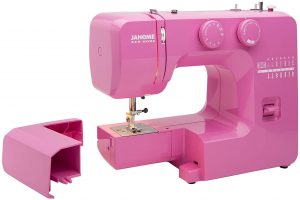 If your kid's into vibrant colors, get them this Janome sewing tool that comes in three colors: pink sorbet, arctic couture, and arctic crystal. It offers tons of features to little sewers, including 15 built-in stitches that allow youngsters to create stylistic patterns and decorations. The manufacturer also highlights a 3-piece feed dog system that eliminates needle and thread jams, letting little sewists experience smooth fabric feeding!
Aside from these, you'll find this sewing tool's adjustable stitch length and zigzag width convenient. Children can easily choose the settings for their stitch type. What's more, this machine embeds a front-loading bobbin system and combines it with easy-access instructions. Thus, little sewists don't need to look for the manual once they thread the bobbins.
Janome sewing machines have four presser feet: general-purpose foot, zipper foot, blind hemming foot, and sliding buttonhole foot. It also has a detachable free arm, so sewists can create small openings, which are great for sleeves or pants. You'll also find this convenient, as it incorporates an easy reverse level, a foot lift, and standard accessories.
Pros
Several kits included in this machine

Has a LED space light

Has three colors to choose from

Comes with a manual instruction
Cons
Doesn't have a thread cutter
9. Aonesy Portable Sewing Machine – Best for DIY Projects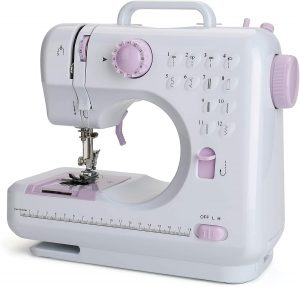 When choosing safety features in a sewing machine, Aonesy portable sewing machine is a no-brainer. Like the NEX machine, Aonesy sewing machine accents a built-in LED light, giving your little sewer a well-lit working space for creating precise and accurate sewing sessions. Besides, the manufacturer guarantees your kid's little fingers don't get pinched with their machine. Kids can switch between AC/DC electric power or four AA batteries easily.
Considering Aonesy sewing machine has a pre-set of 12 built-in stitches and a backstitch push button, kids can create stitches in the opposite direction without changing the clothes themselves. This sewing machine is advertised as the most comprehensive set in the market. The accessories included are a thread cutter, top and bottom bobbins, an automatic bobbin winder, a cuff notch for easy sleeve repair, and a reversible speed motor and foot pedal.
Overall, the Aonesy sewing machine is convenient and versatile, letting your kids carry it around your home when they feel like they're in the mood for sewing.
Pros
Excellent sewing machine for children

Perfect for sewing projects and DIY crafts

Tons of sewing accessories included in the package
10. Janome Fastlane Fuschia Basic – Best for Little Hands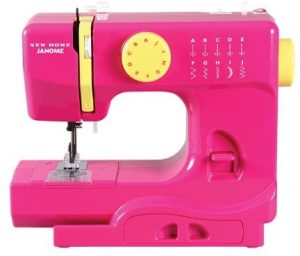 Unlike other sewing machines we mentioned in this round, the Janome Fastlane sewing tool delivers vibrant color you'll ever see. Pink-freak kids would definitely love Janome Fuschia Basic sewing tool that weighs only five pounds but never falls short in features and attributes.
Perfect for kids aged five-year-old and above, it's a kid's sewing machine that is compact and portable. What makes this the best machine for youngsters and newbies is its ten built-in stitches. Teens can learn different forms of stitches, including straight, zigzag, crescent, and multi-stitch decorations. Besides, it encompasses a presser foot with a finger guard. You'll also observe a top-loading bobbin system and two needle positions.
Reverse stitches are made more comfortable and quicker with the Janome Fastlane sewing tool. It's one of those kids' sewing machines with adjustable stitch length and width that comes in six variations.
Pros
Includes excellent presser foot and finger guard to protect youngsters' hands

Lightweight sewing machine for children

Made with metal frame construction
Cons
Doesn't include manuals or instructions
11. iMax Mini-Sewing Machine – Best Value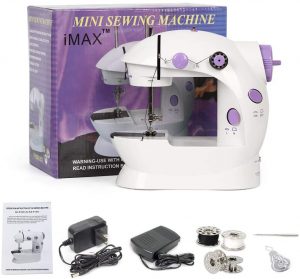 Another sewing machine that kids would find easy to use is the iMax mini-sewing machine, advertised as an upgraded version of electric straight sewing machines. What makes this sewing tool a giftable item to youngsters is its features. This sewing machine incorporates functional designs despite its portability: dual speed and thread, tube slot design, a thread cutter, and an automatic winding function. All of these attributes are safe and easy for kids to begin with.
Youngsters can start their DIY projects at their home's convenience. This machine caters to fabrics up to 2.5 mm thick (or five layers of summer jeans). Teens can easily make various home decorations, such as pet clothes, tablecloths, prom dresses, and so on.
Customers who already had the iMax mini-sewing tool praise the item for its safety shield, protecting little kids' fingers from sewing accidents. Nonetheless, iMax provides a worry-free exchange and return service within 180 days.
Pros
Great gift for youngsters aged ten-year-old and above

Easy to use and kid-friendly

Cheapest sewing machine for kids in this round
12. ELZXUN Sewing Machine for Kids – Best Electric Machine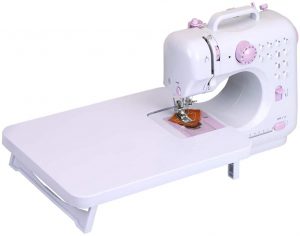 You wouldn't want to miss ELZXUN mini-sewing tool for kids that made it to this round. Little sewists get tons of features. It's advertised as an electric and battery-operated sewing machine that unlocks children's sewing skills in no time—a giftable item for kids aged seven-year-old and up.
It accents two types of switches: a foot pedal and a button. Regardless of the chosen control, children would appreciate this tool's premium-quality and solid stitches. Sewists can quickly make their very own DIY crafts, such as pet clothes, home decors, and many more. It's equipped with a LED-light so your little one can sew patterns even in dim rooms.
Cutting threads is made easy with the ELZXUN machine, as it includes a thread cutter in its accessories. There are speed options (fast and slow) that match a sewist's skills comfortably. It features 12 stitch patterns and adjustable stitch width and length for perfect sews.
Pros
Tons of accessories included

Incorporates dual-speed, automatic bobbin rewinding, and stainless steel presser

Includes a non-slip suction cup at the bottom
Cons
Not really fast, unlike other machines
13. Suteck Mini-Sewing Machine – Best Frame Material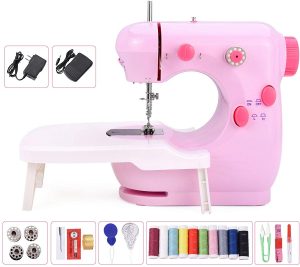 Finally, the Suteck mini-sewing machine is a great machine to accompany kids on their sewing journey. This machine is primarily made with metal, ABS, and environment-friendly materials, adding to the tool's sturdiness and durability. It's an electrical-powered machine, so you don't have to buy batteries, unlike other sewing machines mentioned in the list.
Little sewists and newbies would appreciate this tool, especially the idea that they can choose from different colors: pink, blue, and white. Regardless of the theme selected, they'll find several features and kits with this item: a thread cutter, a built-on LED-light lamp, dual-speed control, and an automatic rewinding system. Sutech also boasts the machine's portability, as it can fit inside a shoulder bag. Children can take this machine anywhere they go.
This machine is accommodated with a large extension table, making it more convenient for kids and teens to work on large craft projects. Plus, the table offers a more stable platform for hemming and stitching patterns. Nevertheless, Suteck recommends parents read and understand the instructions before letting children operate the machine. Additionally, it should be kept away from toddlers for safety purposes.
Pros
Children can have three colors to choose from

Offers versatility and portability

Delivers multi-functional household mending machine
Cons
Short cords; extension might be needed